Thames Water battles giant 'concreteberg'
Thames Water is removing a record-busting 'concreteberg' from under the streets of central London after discovering an industrial amount of solidified cement plugging three Victorian sewers.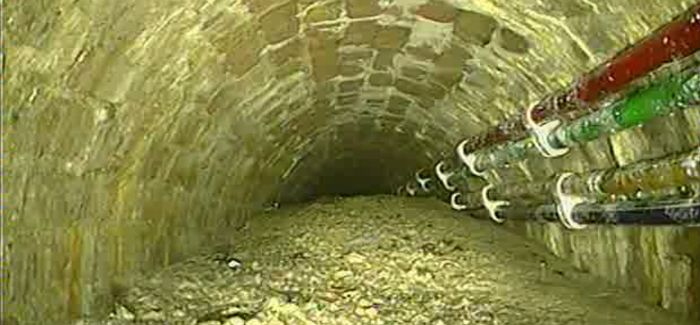 The giant mass of solidified cement and ballast, thought to be at least 100 metres long and weighing 105 tonnes, has been discovered at the junction of Gosling Street and Hall Street, in Islington.
A team of Lanes Group wastewater operatives is preparing to work with Thames Water colleagues to remove the giant blockage, which will cost several hundred thousand pounds to clear using a range of cutting tools, including jackhammer pneumatic drills and high-pressure jets.
Tankers are on standby to pump out waste 24 hours a day to protect the environment, and ensure nearby properties and businesses are not flooded with sewage caused by the blockage.
Alex Saunders, Thames Water operations manager, said: "Normally blockages are caused by fat, oil and wet wipes building up in the sewer but unfortunately in this case it's rock-hard concrete. It's in there and set to the Victorian brickwork, so we need to chip away at it to get it removed.
"This is not the first time damage has been caused by people pouring concrete into our sewers but it's certainly the worst we've seen. It's very frustrating and takes a great amount of time and effort to resolve. We're now doing everything we can to deal with it as quickly as possible, making sure our customers don't have to suffer because of this mindless abuse of our network."
Lanes director Andy Brierley said: "Many people are now aware of fatbergs – giant sewer blockages caused by fats, oils, grease, wipes, and other products that are wrongly disposed of down drains.
"Problems caused by concrete being poured down sewers, either deliberately or accidently, are less well known, but they cause a major nuisance, not least for local communities where it happens.
"Removing this concreteberg also represents an unnecessary hazard for our wastewater engineers, who are having to go down into Victorian sewers and chip the concrete off their brick walls inch by inch."
Every year Thames Water, serving 15 million people across London and the Thames Valley, spends £18 million clearing blockages from its sewers. The company has pledged to invest heavily to improve the network and increase monitoring as part of its business plan for 2020-25 – using up to 200,000 new sewer depth digital monitors. It has also proposed to reduce pollutions by 30 per cent.
An investigation into how the concrete got into the sewer and to recover costs is underway.