Thames Water and alliance partners seal AMP6 deals
Thames Water chief executive Martin Baggs and the CEOs and senior leaders of the partner companies that make up eight2O and the infrastructure alliance have gathered at the Gherkin in London to set the seal on the largest contracts ever signed in the UK water industry.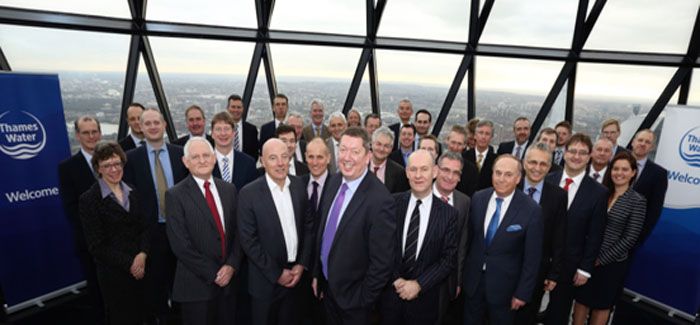 Thames Water's Martin Baggs and members of his senior team join leaders of companies in the eight2O and infrastructure alliances at the Gherkin for the signing ceremony
eight2O and the infrastructure alliance will handle up to £4bn of capital investment programmes and network and developer services over the next five years, with an option to include other major scope in the future.
At the signing, Baggs hailed the new partnerships as a fantastic opportunity, stressing all involved should be proud of the work that has been done to bring companies and joint ventures together in what he said heralded a "whole new era" for the water industry.
He said: "The alliances will change the way we work and change the mindset, but it's fantastic to have a team that's all working together, focusing on our priorities of health and safety and customer service. Problems will be problems for all of us but we'll share the benefits as well."
Using the alliance model, Thames Water aims to achieve greater efficiency in the delivery of its business plan, with a greater emphasis on collaborative teamwork, innovation, health and safety, sustainability and an integrated supply community, giving long-term value to the company and its customers.
eight2O comprises two design and build joint ventures – Costain and Atkins, and Skanska, MWH Treatment and Balfour Beatty (SMB) – as well as a programme manager in MWH and technology innovator IBM, with Thames Water acting as both client and partner. Together, they will carry out between £2bn and £2.5bn of work over the AMP6 period, with potential to extend contracts beyond this to 2025.
Graham Keegan, eight2O chief operating officer, said: "We're totally transforming investment in water infrastructure by combining expertise and best practice from multiple sectors and thinking differently at every level. We're focused on delivering innovative, sustainable solutions which will bring real value to communities both now and in the future."
A similar approach marks the infrastructure alliance, set up to deliver around £1bn worth of water network and developer services over the AMP6 period, with an option to include up to a further £0.5bn in additional network and metering services in the future.
This alliance comprises two joint ventures – Agility, made up of J Murphy & Sons and Morrison Utility Services, and KCD, involving Kier Services and Clancy Docwra.