Thames using 'eyes in the sky' to combat leaks
Thames Water has launched a three-pronged aerial attack in its hunt to find and fix leaky pipes.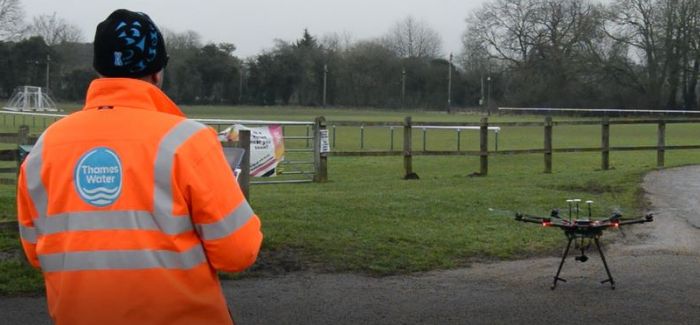 The company, which has said it will aim for 50 per cent leakage reduction by 2050, is using a fleet of drones, an aeroplane and a satellite to boost its battle against leakage.
The technology has been used to spot dozens of possible leaks using state-of-the-art thermal imaging and infrared cameras, providing an invaluable tool in the fight against leakage.
Reducing leakage is a key priority for the company, which has pledged to get back on track with its targets by 2020 and then further reduce it by 15 per cent by 2025.
Dozens of teams are fixing more than 1,000 leaks a week across the company's 20,000-mile underground pipe network, with the 'eyes in the sky' giving them another helping hand.
Euan Burns, chief engineer at Thames Water, said: "Reducing leakage is one of our main priorities, and we know it's really important to our customers too.
"We're always looking for innovative ways to help solve operational issues, and this aerial approach with the latest technology will give us another perspective and another tool to help find leaking pipes. We're in the early stages of introducing this at the moment, but the signs have been encouraging and we're looking forward to seeing the results our eyes in the sky can bring."
Currently, technicians use acoustic loggers on pipes to listen for water escaping, and also use data to track how much water is going through pipes compared to how much was produced at the treatment works. Visible leaks are also reported by both staff and members of the public.
As reported by the BBC's Reality Check team, leakage has fallen 38 per cent since privatisation, and Thames is determined to use every tool possible to get levels down even further. It has restructured its teams to tackle leakage, and is investing in both people and resources.
The company's fleet of five drones, all manned by fully qualified pilots, can fly more than 100 metres high and a distance of 500 metres to survey huge landscapes.
In July, they flew 28 times with on-board thermal imaging cameras beaming live footage back to screens where experts look for leaks. In three flights, they found leaks within 60 seconds of launching, which are now in the process of getting fixed.
Another weapon in the company's armoury against leakage is the use of a satellite, which takes high resolution images of the ground. These pictures are then cross-referenced with maps of pipes and other aerial images, before teams are given an exact location to investigate.
It is set to be used on a trial basis and Thames Water has teamed up with company Earth-i for the project. It was particularly useful during the prolonged dry and hot spell, with green areas in parched landscapes clearly showing a leak, which may be missed during wetter conditions.
Finally, an aeroplane with an infrared camera has also been flying through the skies, predominantly over the rural areas of the Thames Valley and south London. As part of a joint project alongside the Water Research Centre (WRc) the camera on board the Vulcanair aircraft takes hundreds of pictures, which are then analysed by special software which can pinpoint areas where leaks can be found.