Thames uses mobile soil recycling unit for pipe projects
A state-of-the-art mobile recycling unit is playing a vital part in Thames Water's ongoing project to repair and restore its water mains.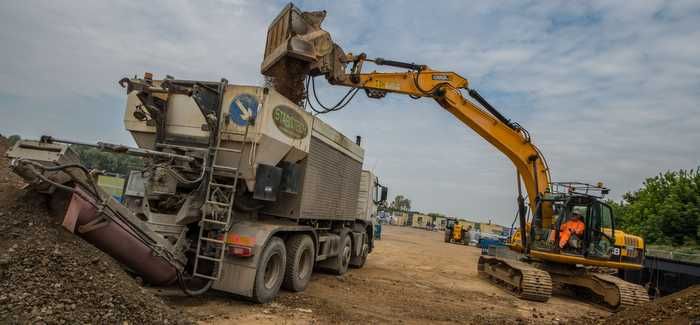 The recycling unit in action
The Stabiltech recycling unit processes excavated material before combining it with other substances and sending it to help backfill the land following the pipe repair. The high production mobile recycling truck, developed by multi-utility contractor Conroys Group, can visit multiple sites in the course of a week, saving time and cost and cutting waste.
Mains repair and rehabilitation is being carried out by Thames Water's eight2O alliance as part of the utility's investment into its network, and involves the repair and replacement of old trunk mains that supply the company's nine million customers with high quality drinking water.
Jenny Minford, environmental advisor at Thames Water, said: "This process means that waste can be turned into a material product for use on our works.
"It reduces costs and carbon, since there is less reliance on imported materials and there are fewer vehicle movements from deliveries and muck-away."
The mains rehabilitation programme is a key project for the company in reducing leakage, as it targets pipes which are in poor conditions and makes the network more resilient.
The excavated material is from the ground which surrounds the pipes, plus sections of the pipe which have had to be dug out and repaired.
The recycling unit is also helping the company achieve its target of not sending any excavated material to landfill, and reducing its carbon footprint.