Thames uses 3D holograms on project design
Thames Water is using 3D holograms to allow engineers and operators to pick up potential flaws in project designs before they become reality.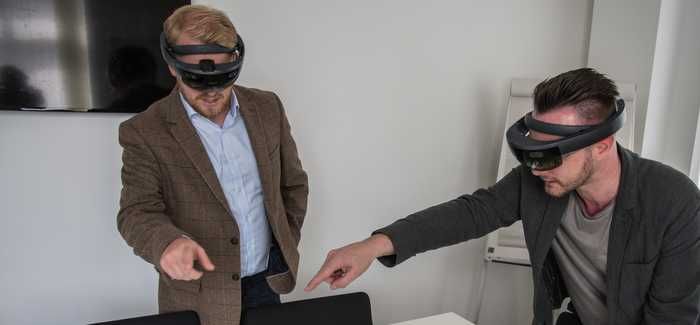 Inspecting a virtual reality hologram with the tool
The 'Hololens' tool - developed by a small team at MWH working on SMB Non-Infra projects as part of the eight2O alliance - creates detailed holograms of planning designs, allowing personnel to inspect the plans in a real life-size environment, seeing it from different angles and vantage points.
Graham Funnell, design manager at MWH Treatment, said: "One of the main benefits of this technology is we can show people who are nervous about a project or development how it will work in practice. It makes it more accessible and it can also allay some fears about a project. It makes everything that more realistic."
The technology so far has been used as part of the advanced energy recovery project at Crossness, where the team managed to display the hologram in a 60 metre by 20 metre barn, allowing people to walk around it and inspect it. But, it is also commonly used at meetings, as the size of it can be altered to fit whatever dimensions necessary.
The holograms can be created within days by the team, after they receive the 2D drawings or computer models and convert it into a hologram, and then shown to those who will need it. It is helping to streamline the planning process. 
If engineers or operators spot a problem with the design as they are inspecting the hologram - for example, if a stairway would obstruct a key component of a machine - this can be then fed to the planners and the design altered. 
The technology is so far only being used internally, but it's thought it could be shown to members of the public and stakeholders in the future, either at public meetings or roadshows. 
Damon Webster, one of the experts who creates the holograms, said: "This is some really exciting technology, but not only that, it serves a really important purpose.
"It provides a level of detail that 2D plans just don't, and almost everyone we have showed it to thinks it's great, and incredibly beneficial. This is not just about creating cool gadgets and playing around, it needs to make a difference and add value not only to the process, but to the company as a whole, and this certainly does do that."
The program, which can incorporate timings to show how the development will look at during different stages, is also boosting collaborative working between different teams, as they can see how it will look and work once completed.