Thames to help fund £60M green surface water management schemes
Thames Water will partner with stakeholders and local authorities to fund £60 million of surface water management (SWM) schemes including green spaces, removing hard, impermeable surfaces such as concrete and asphalt in areas most at risk of flooding.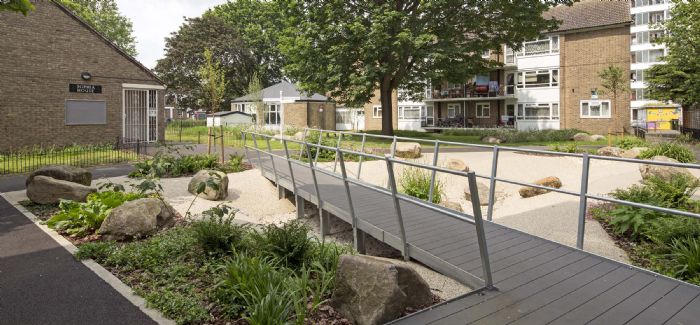 The Queen Caroline estate pictured after the implementation of the green SWM features
The project will create more sustainable solutions across 65 hectares of land in total to reduce the amount of rain and flood water entering the company's vast sewer network, and counter flooding in urban areas.
Reducing the volume of water entering the sewers also provides greater capacity in the network to support future population increases in London and the Thames Valley, which is growing at twice the average of the rest of the country.
The initiative is a feature of Thames Water's recently published £11.7 billion business plan for 2020-25, with £1.1 billion assigned to activities that will protect and enhance the environment.
Tim Beech, Thames Water infrastructure planning manager, said: "The climate is changing and, with our population expected to rise, flooding and rainwater during intense storms is an issue we need to tackle now to protect our communities in the future. 
"We've launched a fund to deliver schemes with the potential to drastically reduce the impact surface water has on our sewers.
"Green infrastructure can be installed in almost any urban environment and the wider benefits are hugely valuable, as the spaces for our communities will provide attractive and natural areas for leisure and recreation."
During periods of heavy rainfall, some sewers can reach capacity due to the amount of water suddenly entering them. The expected initiatives will mimic natural water systems and create sustainable drainage so rainfall is absorbed by the ground or channelled into green storage such as ponds where it can slowly soak away.
In addition to alleviating flood risk, green spaces deliver improvements in biodiversity and provide amenities for the community – with associated positive impacts on mental and physical health. The public spaces are expected to range from rainwater gardens, wetlands, green roofs and living walls.
The work builds on existing initiatives from the Thames' 'Twenty 4 Twenty' scheme, which is on track to remove 20 hectares of impermeable surfaces.
One such scheme is at Queen Caroline's Estate in London where several sustainable drainage measures including a Schotterrasen (Austrian gravel lawn) were delivered through the Climate Proofing Housing Estates programme. Led by Groundwork London in partnership with the London Borough of Hammersmith and Fulham, with the contribution of the LIFE financial instrument of the European Community and Thames Water, it helps divert 1.2m litres of rainwater every year.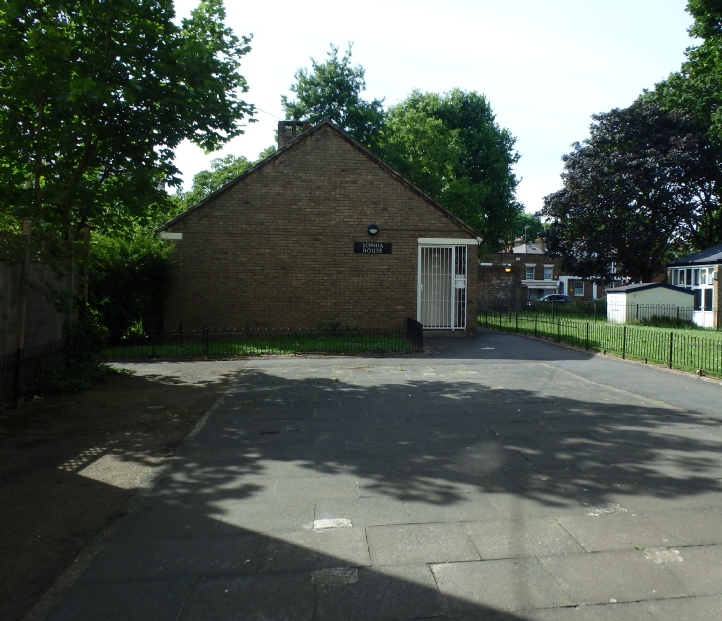 The Queen Caroline estate pictured prior to the work
Alongside community initiatives, Thames Water also plans to implement sustainable drainage measures for households, developing an innovative planter which collects rainfall from the drain pipe before slowly releasing it back into the sewers.
The planter, which helps free up capacity in the network during high rainfall, is designed to be used in residential gardens, with excess water also captured for future uses such as watering the garden.
It was exhibited at the BITC Waste to Wealth summit held at Veolia Southwark's waste management facility in London on 22 November, attracting the interest of both HRH The Prince of Wales, and environment secretary Michael Gove, with the company aiming to offer them to customers in areas at risk of flooding.
Thames Water's newly launched SWM programme will fund work with stakeholders and local authorities with priority given to major schemes in areas most at risk of flooding. However, local authorities across the Thames Water network will have the opportunity to partner with the company.
For more information on sustainable drainage, read our in-depth feature here