Thames Tideway project implements cost-saving measures
Thames Tideway Tunnel is implementing cost-saving measures following €œcomplex engineering challenges", the project's holding company has confirmed.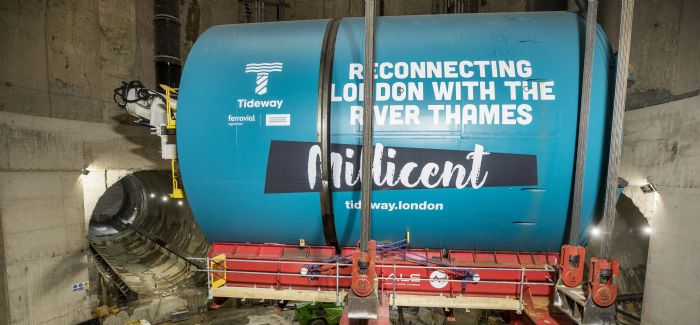 Millicent, one of two TBMs that will be used on Tideway, started the tunnelling on the project last month
Bazalgette Holdings Group said in its report for the six months ending 30 September 2018 that the measures had been introduced in partnership with contractors "to mitigate cost pressures" as it seeks to complete the 25km tunnel by 2023 at a cost of £4.2 billion.
It said the "most significant" of those cost pressures were presented by engineering challenges at Blackfriars, where two large diameter gas mains were discovered; the cofferdam construction at King Edward Memorial Park, together with the associated programme prolongation at that site; cofferdam construction at Albert Embankment; and various challenges at shafts across the East area sites.
It said those issues, along with general cost pressure across the programme, have "substantially eroded available contingency" funds and confirmed that total project costs for the six-month period were £325.3 million, bringing the total cumulative cost to just over £1.48 billion before tunnelling had begun.
The report said the project team and main working contractors have been working together "to eliminate overlap, taking measures to increase productivity, undertaking value engineering and delivering overhead savings", although it acknowledged that it is "too early to conclude the extent to which these measures will mitigate the cost pressures".
However, a spokesperson for Tideway said the project is still due to be completed "on schedule and to budget", adding: "There have been a number of complex engineering challenges and risks to overcome in the early stages of the project. With these behind us and having put in place several measures to reduce cost, our budget is intact."
Tunnelling on the project began late last month as Millicent, a tunnel boring machine (TBM) named after suffragist Millicent Fawcett, built the first ring at Kirtling Street in Battersea.
Millicent is one of two TBMs that will build the 13km central section of the main tunnel, while two more machines will dig the 7km west section and the 5.5km east section.
Two smaller TBMs will also dig the 1.1km Frogmore Connection Tunnel in Wandsworth and the 4.6km Greenwich Connection Tunnel.