Thames shows off £6.5M eel screens in Walton
Thames Water has met with representatives from the Environment Agency and the angling community to demonstrate how new eel screens installed in Walton on Thames are helping to protect an endangered species.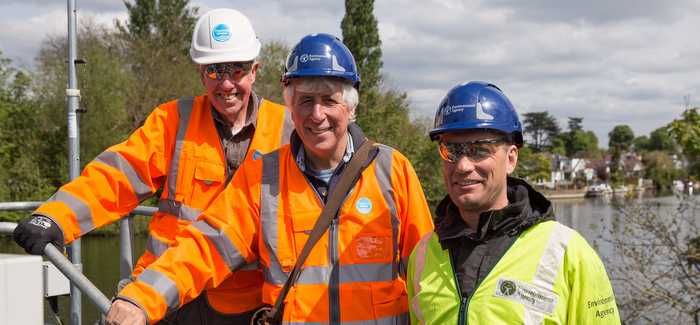 Keith Arthur (Angling Times), Martin Salter (Angling Trust) and Stuart Keable (Environment Agency) on the visit
The company has installed the equipment at its advanced water treatment works in Walton, south-west London as part of an extensive project to help stocks of the critically endangered species recover.
The £6.5m screens help the eels and elvers avoid being drawn in to Walton's reservoirs from the Thames during the water abstraction process and allow the fish to continue their migration up and down the river.
Thames Water's External Affairs and Sustainability Director Richard Aylard said: "The screens at Walton are the first step in us meeting the requirements of the Eel Regulation (England and Wales) 2009, which applies to all water companies, and aims to protect and monitor this threatened species.
"This is one of 16 schemes we're working on, worth a total of £35m, which includes innovative ways to monitor eel populations through measures such as citizen science."
The Angling Trust's National Campaigns Coordinator, Martin Salter, added: "It was fantastic for anglers and others who really care about the health of our fisheries to see Thames Water and the Environment Agency working together to help eel numbers to recover following the crash in stocks in the 1980s. It's not just eels that would benefit as the young fry from all other species get sucked into these water intakes. They now have a much better chance of surviving and making the Thames an even better fishing river."
The Walton device features 11 screens suspended in the intake stream. The screens' small mesh prevents the eels from passing through, while an auto-wash feature enables the screens to self-clean without hampering the flow of water into the treatment works.