Thames: Sewer blockages up 20 per cent during lockdown
Coronavirus containment measures have prompted an increase of 10 blockages per day across Thames Water's network. Denise Chevin reports.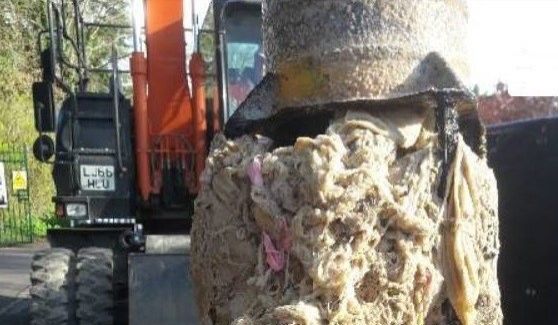 A 40kg clump of wet wipes and other 'unflushables' has been dragged from a Thames Water sewer, as blockages in the region climb almost 20 per cent during lockdown. 

During the coronavirus outbreak, Thames Water has seen an increase of about 10 sewer blockages per day compared to normal, which it puts down to some consumers using wet wipes, tissues, kitchen roll and even newspapers, because they were left without toilet papers because of others panic buying.  
This latest 'ragberg' blockage was in a temporary pipe in Maidenhead, where Thames Water is repairing a collapsed sewer. Engineers at the scene are clearing such blockages at least once a week to prevent pollution to homes and the environment. Each operation takes two hours, using up valuable repair time. 

Stephen Sanderson, Thames Water area network manager, said: ""Wipes and things like kitchen roll if used instead of toilet paper can't go down the loo. As nasty as it sounds, if people do use them as a last resort they need to be put in a bin and disposed of safely."   
Thames Water staff have been classed as key workers during the outbreak, meaning those unable to work from home will continue to fix leaks, carry out major civil engineering and resilience schemes, and maintain services at reservoirs, water treatment works and sewage sites. Non-essential work, such as meter readings, has been reduced.    

It's not just rag that engineers have to contend with. Last month a razor blade was found at Kingsley Square sewage pumping station, near Guildford, wedged in a mass of unflushables. 
Other unusual items found in sewers and sewage works by Thames Water in recent years include a toy car, a screwdriver and even a shotgun. 
As part of its ongoing 'Bin It – Don't Block It' campaign, Thames Water, which spends £18 million every year clearing 75,000 blockages from its sewers, has produced a series of radio adverts reminding customers to be mindful of what they flush during the pandemic.