Thames saving 20 million litres a day after 250,000 home visits
Thames Water has now helped 250,000 homes save 20 million litres of water every day as part of its award-winning smarter home visit project.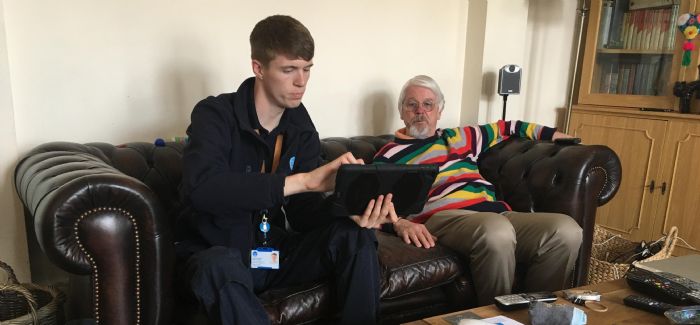 Thames Water smarter homes advisor Jordan made the landmark visit on Wednesday
It is estimated the devices and simple behaviour changes, like turning off the tap when brushing teeth, could save over 50,000 litres of water a year for an average family, while fixing a leaky loo can save between 200 and 400 litres every day alone.
An extra 2.1 million people are expected to move into the Thames Water region over the next 25 years. This, combined with climate change, means the company has predicted there will be a shortfall of 350 million litres of water a day between the amount available and the amount needed by 2045.
By 2100, this is predicted to increase to 650 million litres a day. By installing smart meters and associated programmes such as its smarter home visits, Thames Water plans to reduce the consumption of water from 142 litres per person per day to 136 litres by 2025.
Andrew Tucker, water efficiency manager at Thames Water, said: "We're proud to be operating the largest and most innovative water efficiency programme in the UK. It's great to have reached this amazing milestone of helping a quarter of a million households reduce their water use and make savings on their water and energy bills with free devices and personalised advice."
Thames Water began offering smarter home visits in 2015 to its customers who already have or are due to receive a smart water meter. In that time, it has installed almost three quarters of a million water saving devices and fixed more than 14,000 leaking toilets and taps free of charge. The company has committed to install a further 700,000 smart meters by 2025 and carry out another 400,000 smarter home visits, to continue the success of the project.
Those who are identified during the visits as being in vulnerable circumstances, including people struggling to pay bills or those who may need extra help if their normal supply was temporarily restricted, are also referred for additional support.
This has resulted in more than 2,500 customers being referred for financial help, normally by switching to Thames Water's social tariff, and almost 1,000 being added to the company's priority services register.
Nicci Russell, Waterwise managing director, said: "It's fantastic that Thames Water has helped people in a quarter of a million homes be more water-efficient, fixing leaky loos and installing smart meters.
"We all have a part to play in making sure the water we have is shared fairly – and we're already seeing the impacts of climate change and a growing population. We look forward to Thames supporting the next quarter of a million customers as we'll all eventually need to be using a lot less water than we do now."
Working with Groundwork London, a team of around 100 people deliver the smarter home visits across London and in the Thames Valley.