Thames' 'micro-machine' to cut roadworks disruption
Thames Water is bringing an innovative new micro-machine to London to cut down travel disruption caused by essential roadworks.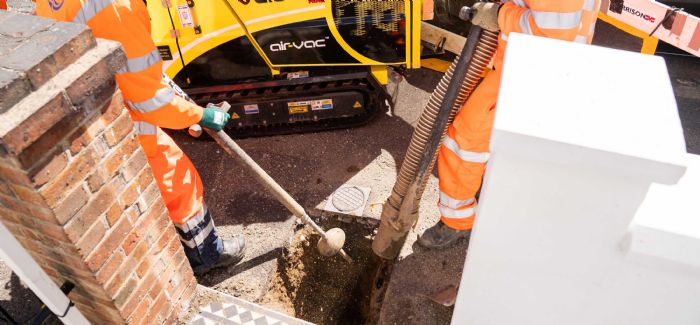 Said to be the smallest of its kind in the country, the new micro vacuum excavator means the space needed to dig holes to reach water pipes, and the mess left behind, is greatly reduced. Work can also be done on pavements rather than in roads, in most cases. It also has the advantage of reducing the risk of striking other underground cables.
The custom-built machine is currently being used to install smart meters across London but the long-term ambition is to use the technology to repair leaking pipes without lane closures. It works by sucking the soil from the ground before recycling it back into the hole once work is completed.
Mark Cooper, Thames Water's head of metering, said: "By helping to develop this new vacuum machine and bringing it to the streets of London, we aim to significantly reduce disruption for customers and commuters and make the process of installing meters easier for everyone.
"Our smart meter roll-out will save millions of litres of water by reducing demand and helping us better detect leaks as well as giving customers more control of their bills."
Thames Water carries out thousands of excavations a year as part of its smart metering programme and is now looking at ways the technology can be developed for other uses. Given the tight streets of the capital, as well as the clay it is built on, there are a number of challenges to overcome but the company is working to find solutions.
Cooper added: "We only dig up roads when we absolutely have to but we also understand customers can find this extremely frustrating. This is why we're continuing to invest in ways to use technology to minimise disruption and improve the resilience of our network."
Finding innovative ways to improve the service Thames Water provides to 15 million customers is at the heart of the company's five-year business plan, currently being considered by Ofwat.
As well as working with other organisations to develop technology like the vacuum, Thames Water will be investing £11.7 billion across its network to reduce leakage by 15 per cent and pollution incidents by 18 per cent.