Thames hosts Malawi water board in fact-finding mission
Thames Water has welcomed members of Malawi's Central Region Water Board (CRWB) for a 10-day visit to help improve the everyday lives of people in the African country.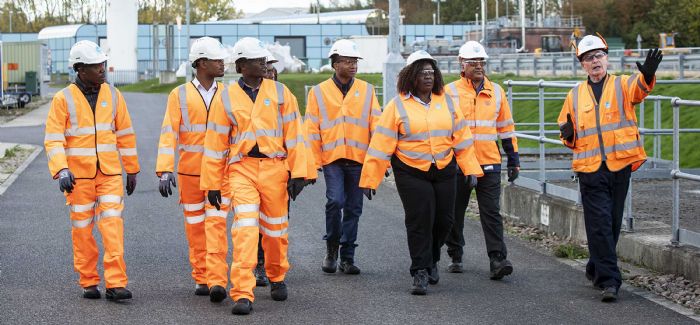 During the trip, seven employees of the CRWB will tour the company's sites and projects to see first-hand how it supplies water and wastewater service to its 15 million customers, and to gather useful tips and advice to use on their own network.
In partnership with WaterAid, the visit, which started on October 29, is part of the Thames Loves Malawi initiative, which will see the company and its staff raise £2 million over four years to improve water quality, infrastructure and hygiene in Mponela and Kasungu.
Anthony Crawford, chairman of Thames Water's WaterAid committee, said: "We have an excellent working relationship with the CRWB and WaterAid, and we're delighted to welcome them.
"Throughout their stay we'll be sharing our knowledge and expertise on how we operate our vast water and wastewater network, which they will be able to transfer to their own network in Malawi to help improve it.
"As well as raising money, it's important there's a significant improvement to their network and systems and this will be greatly aided by these types of trips, where we can pass on our knowledge and expertise.
"Clean water, safe sanitation and good hygiene is something we all take for granted every day but will make a huge difference to the everyday lives for the people of Mponela and Kasungu."
The visiting CRWB employees work in a variety of positions and include network managers and the director of technical services and those who work in IT and finance.
During the visit they will head out and about to speak to the company's staff to help improve their skills particularly in water supply, reducing leakage, customer relations and capacity building.
There will also be a ceremonial plaque unveiling during the visit, to further cement the relationship.
It follows a similar trip from Thames Water staff in 2017 to Malawi, during which they offered practical tips and advice on how the network could be improved as well as helping build various infrastructure projects and improving hygiene education.
John Makwenda, director of technical services at the CRWB, said: "It's been very exciting, and it's been great to see how Thames Water provides water and wastewater services to its millions of customers.
"What has struck me most so far is the level of quality which wastewater and water is treated.
"The condition of the treatment plants is also very neat and very organised, and I see a lot of efficiencies with the way the operations are run which we can take back home and transfer to our own network."
Mercy Masoo, country director of WaterAid Malawi, said: "One in three people in Malawi lack access to clean water and more than half of the population don't have a decent toilet.
"This partnership will contribute towards building robust national and local water and wastewater services in Malawi, ensuring clean water, good sanitation and hygiene for everyone everywhere by 2030."
For more information on Thames Loves Malawi appeal or to donate, visit https://www.wateraid.org/uk/donate/thames-water