Thames' fatberg fight rages on a year after Whitechapel
A special edition manhole cover has been installed to commemorate Thames Water's victory over the infamous 130 tonne Whitechapel fatberg.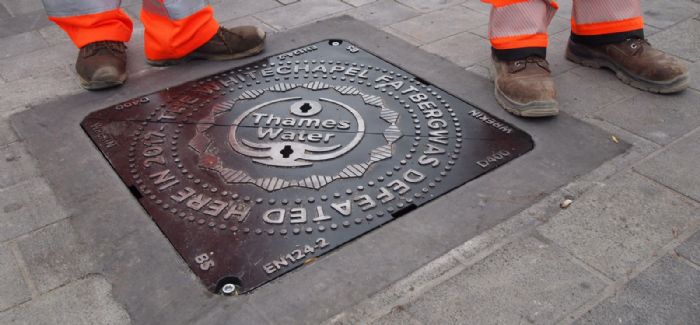 Fearless sewer teams took 13 weeks to defeat the 250-metre long beast from East London with high-powered jets and brute force after it was discovered in September 2017.
Since hitting headlines around the world, research by Thames Water suggests two thirds of Londoners are now aware of fatbergs – wet wipes and other sanitary items congealed with fat, oil and grease that have all been wrongly flushed or poured away in homes and businesses.
Alex Saunders, Thames Water waste network manager, said: "The Whitechapel fatberg revolted and fascinated everyone, and got people everywhere talking about what happens next to their waste.
"It was a vivid image of what happens if people flush wet wipes down the toilet or pour fat down the sink, and the difficult and challenging job our teams do every day hidden beneath our feet. It certainly showed that out of sight isn't gone forever – and now their heroic work in awful conditions will be remembered with this new commemorative manhole cover."
The fatberg sparked months of media coverage and hit headlines in more than 156 countries, including 550 million impressions on Twitter. It featured prominently on national radio shows, including Radio 1's Greg James Show live from inside a sewer, and the unique Channel 4 'Fatberg Autopsy' documentary has been watched by more than a million people.
Since uncovering the sewer monster, Thames Water has tripled its above ground fatberg-fighting team to work with restaurants and takeaways to trap fat in kitchens, and a practical challenge as part of the company's ongoing 'Bin it – don't block it' campaign, showing the difference between flushing a wet wipe and toilet paper, has proved popular on social media.
Meanwhile, a fatberg musical is currently being scripted while the Museum of London exhibition attracted thousands of visitors, with a chunk now on constant 'FatCam' display.
Vyki Sparkes, curator at the museum, said: "The samples of the Whitechapel fatberg have proven to be very powerful, provoking strong feelings of fascination and disgust while encouraging people to reflect on a serious challenge facing the city.
"By adding these samples to our permanent collections we're preserving material evidence of how we live now, and, as we change our habits and attitudes, fatbergs could well become history."
Every hour Thames Water clears five blockages from its sewer network, which can cause pollution to the environment or customer's homes, caused mainly by flushed wipes at a cost of around £12m every year.
The company's recently published five-year business plan covering 2020-25 will deliver an 18 per cent reduction in pollution incidents as part of an industry-leading £11.7 billion investment programme, which includes £2.1 billion to boost resilience and reduce leakage by 15 per cent from its network of water pipes.