Thames employs innovative engineering to avert disruption
Thames Water is using innovative engineering techniques to upgrade a brick-built Victorian sewer above Baker Street tube station while keeping London flowing.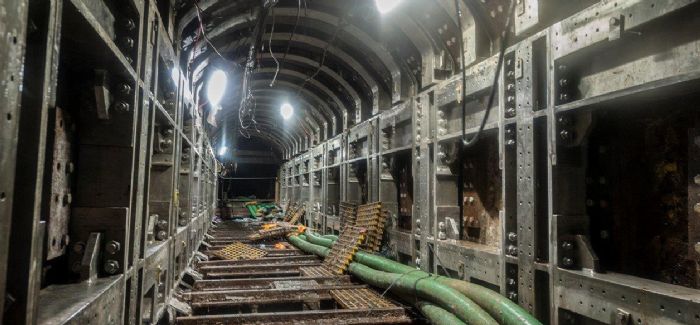 The £20 million project in one of the capital's busiest areas has had no impact on the roads above or rails below due to Thames Water's state-of-the-art solution, with the 1850s-built tunnel also remaining in full wastewater operation throughout.
The Kings Scholar Pond sewer, buried 2.1 metres underneath the junction of Baker Street and Marylebone Road but on top of the London Underground's Hammersmith and City Line, was found to be in need of repair during a routine inspection.
Thames Water's answer to extend its life by more 100 years and avoid travel disruption included a stainless steel bridge and liner being constructed off site, dismantled and rebuilt inside the sewer, after being lowered underground single piece at a time through a narrow manhole.
Asad Hanfi, Thames Water project manager, said: "This is one our most challenging sewer repairs ever. We're taking the pieces of a giant 3D jigsaw underground through a hole no wider than the wheel of a van, and piecing it all together to reinforce the existing brickwork and improve the resilience of the sewer for more than another century.
"By doing it this way we're not impacting on the busy roads or trains, and we're saving money and significantly reducing pollution by not using large mechanical diggers. It's better for the environment, better for our customers and it's keeping London moving."
All that can be seen from above ground is three small fenced off areas of pavement to allow safe access through the manhole and store equipment.
Underground, in addition to the steel structure, the team has inserted a reinforced resin liner to strengthen the sewer for around 120 years. The steel structure has been designed to not require maintenance for the duration of that period while the liner can be removed a panel at a time to allow the original Sir Joseph Bazalgette brickwork to be inspected as normal.
TfL's director of engineering, George Clark, said: "This is an extremely complicated project in a very busy part of London where, with careful planning and close collaboration, Thames Water has been able to carry out the repair works without disrupting our customers."
During the project, which is due to run into early 2019, wastewater flows are being carefully managed, with a system of cameras and alarms used to alert teams to evacuate if necessary, as the sewer is used to carry overflows from neighbouring tunnels during periods of heavy rain.
In its £11.7 billion business plan for 2020-25, Thames Water has proposed record investment across its network to improve service to its 15 million customers, including a commitment to reduce pollutions from its vast sewer infrastructure by 18 per cent.