Testing centres for water innovation open in Scotland
Scotland has opened its first full-scale facilities for the testing of water and wastewater technologies, funded by a £1.6M grant from the Scottish Government.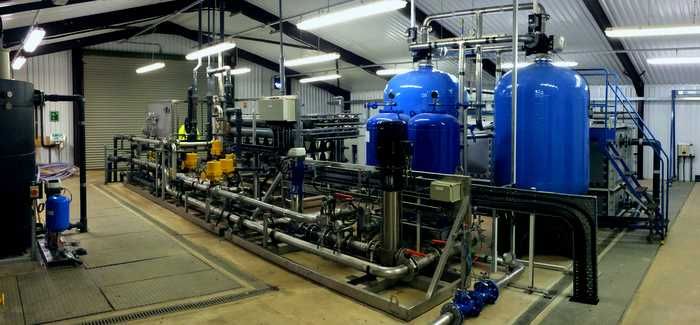 The new water Development Centre at Gorthleck
Two Development Centres have been created at Scottish Water sites where companies can test new equipment, products and processes for potential roll-out in the water industry. This could include treatment technology that could support Scotland's rural communities.
The first is at Gorthleck in the Highlands, where a water Development Centre has been created within a former Scottish Water water treatment works. The facility has its own feed of raw water, with sampling collection and analysis available from Scottish Water's accredited laboratories.
The second is at Bo'ness near Falkirk, where a waste water Development Centre has been created next to an existing Scottish Water wastewater treatment works.
The Development Centres are part of the Scottish Government's Hydro Nation agenda to make water a driver of the Scottish economy and Scotland an international hub of water expertise. It is intended that they will promote innovation and growth in the water sector while supporting SMEs with final testing of near market technology.
Andrew Macdonald, Head of Scottish Water Horizons, the public utility's commercial subsidiary which has developed the centres, said: "Scotland is fortunate to be blessed with significant water resources which, for centuries, have been at the heart of industry and community life.
"By developing these facilities in the Highlands and Central Belt, we are meeting a need in the water industry for dedicated testing facilities where new equipment and technologies can be tested to allow companies to accelerate the development of technologies for use in the future treatment of water and waste water. This will help us to promote growth and innovation in the water sector.
"What's really unique about our Development Centres is that they are located within an actual and former treatment works – meaning they are not only the first dedicated testing facilities of their kind in Scotland, but also the first on an operational scale.
"The treatment of water and waste water can be energy intensive and costly. Our Development Centres at Gorthleck and Bo'ness will offer companies in the water industry an opportunity to test new processes and equipment which could potentially be more effective and produce savings for customers."
Trials will be overseen by Scottish Water. The water used for testing at Gorthleck will not be supplied to customers, but will be safely returned to the environment, while the wastewater used for testing at Bo'ness will then go through the normal treatment process before it is safely returned to the environment in the normal way.
Cabinet Secretary for Infrastructure, Investment & Cities Keith Brown said: "Scotland has an enviable natural abundance of water resources that is of fundamental importance to our economy, health and environment.
"The opening of Scotland's first ever dedicated water technology testing facilities at Gorthleck and Bo'ness offers the industry an invaluable opportunity to test new technologies and processes for future use in the treatment of water and waste water.
"Scottish Water's new development facilities will further enhance Scotland's reputation for innovation through increasing international collaboration and trade by bringing more water technology products to market."