TBM to start constructing £100M Shieldhall Tunnel
Scottish water will use a Tunnel Boring Machine (TBM) to construct the £100M Shieldhall Tunnel, which will be part of the biggest wastewater infrastructure in Scotland since Victorian times.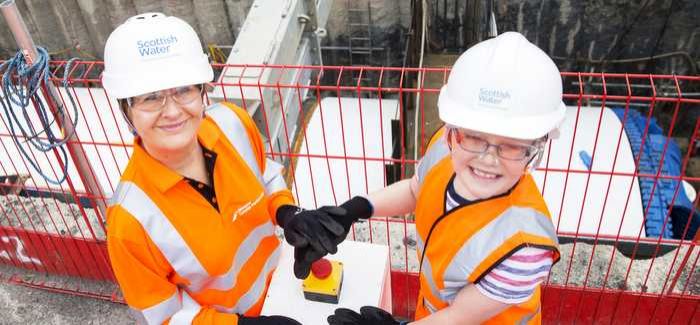 A team of 20 people will be operating the TBM working for 24 hours, five days a week working in shifts. It will tunnel on average 30m a day at numerous depths.  Pre-cast concrete is to be used to put in six sections to form the full wall.
The TBM will put in around 18,000 of these concrete segments to form the tunnel and excavate about 280,000 tonnes of material.
At its front it has a rotating cutterhead and a series of trailers behind.  The trailers contain equipment as well as a conveyor belt to remove earth, stones and rocks.
All material gathered will be reused in other projects. The idea is to reuse everything in Shieldhall Tunnel.
Roseanna Cunningham, the Cabinet Secretary for Environment, Climate Change and Land Reform, launched the giant state-of-the-art tunnel boring machine in the south of Glasgow.
Speaking at the launch, Ms. Cunningham said: "I am delighted to have launched the tunnelling phase of the Shieldhall Tunnel project, which is the biggest project in Scottish Water's on-going investment in the Greater Glasgow area's waste water network. This, in turn, is the first step in a much larger investment programme to improve the area's drainage and sewerage infrastructure which is essential to Glasgow's economic prosperity."
Douglas Millican, Scottish Water's Chief Executive, said: "The environment and communities throughout Greater Glasgow will benefit significantly from the Shieldhall Tunnel and other investment by Scottish Water because it will protect the natural environment and meet the needs of growth, economic development and regeneration. It will also support jobs and employment opportunities, including a number of apprenticeships.
"The Shieldhall Tunnel is the biggest of many projects which are progressing deep beneath the Greater Glasgow area's streets largely out of sight of most people who live, work and travel here.
"Much of the existing waste water infrastructure was built in Victorian times and the modernisation of the system and construction of new underground assets such as the Shieldhall Tunnel will enable Greater Glasgow to realise its above-ground aspirations."