TBM arrives at Beckton as Thames project progresses
Thames Water's ongoing work to ensure a healthy environment along the River Thames has passed another milestone with the arrival of a tunnel boring machine (TBM) at Beckton sewage works.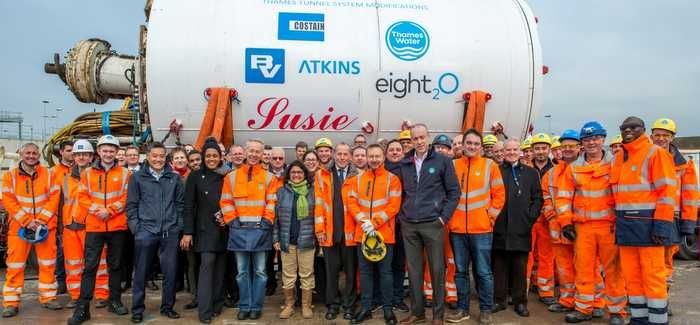 The naming ceremony for the TBM at Beckton Sewage Treatment Works
Lowered 30 metres below ground by a specialist heavy-duty crane, the TBM will now begin its work of burrowing more than 850 metres over the next six months.
When it reappears in May, the TBM will have bored a three-metre wide tunnel under Europe's largest sewage works to connect the existing Lee Tunnel to the future Thames Tideway Tunnel.
Mark Morrison, senior project manager, said: "Our new tunnel will play a crucial role in relieving the future Thames Tideway Tunnel of sewage and rainwater at times of extreme high flows, preventing damage to the environment."
Before being lowered into position, the team met to name the machine 'Susie', after long-serving employee Alan Crump's wife.
Delivery manager, Steve Wilkinson, said: "It's a great choice of name and a fantastic recognition of Alan's long and dedicated service, which pre-dates Thames Water as a company! Alan joined in 1972, two years before the Thames Water Authority came into being."
It took the team more than three hours to first carry out a practice lift, before rigging 'Susie' up to a harness and carrying out a precision lift down into the purpose-built eight metre wide shaft.
The team are now preparing for their first stint, and will connect a conveyer belt to the rear as they go, which will remove the soil being excavated.
Specialists will 'drive' the machine from an in-built cab and will use laser technology to ensure the machine stays on its designated route.
Thames Water's site at Beckton treats the waste of nearly four million people, which equates to approximately 1.1million cubic metres of wastewater a day.
It became part of Sir Joseph Bazalgette's network in the 1860s and has since been redeveloped and expanded a number of times to accommodate the needs of a growing population.