'Systems thinking' helps build confidence in drinking water
The water industry is applying 'systems thinking' to ensure it can respond quickly to incidents and ensure the public retain confidence in its service, delegates heard at WWT's Drinking Water Quality conference.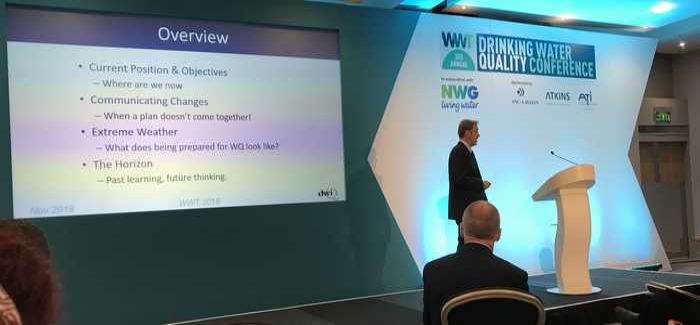 DWI's Marcus Rink takes the stage at the conference
Giving the opening address to the conference yesterday (Nov 8th) Heidi Mottram, chief executive of Northumbrian Water Group, said that customers take it for granted that their water will be clean, clear and taste good, and that as well as fulfilling this expectation, she wanted her company to earn the trust and confidence of the customer.
"We want customers to have a high level of confidence in what we are doing. But confidence takes a lot of time to earn and can very easily be lost if you do the wrong things."
She cited Northumbrian's catchment management to manage source water quality, its programme to eliminate lead pipes, and its work to reduce Cryptosporidium risk as examples of work that was helping to build confidence and resilience.
Marcus Rink, Chief Inspector, Drinking Water Inspectorate, said that Mean Zonal Compliance for public water supplies in England and Wales remains at the high level of 99.96%, and that there had been little movement in this for over a decade. However he said that the industry's progress against the two measures introduced by the Inspectorate in 2014 – the Compliance Risk Index (CRI) and the Event Risk Index (ERI) was encouraging.
"We know that the number of events aren't changing – and that accidents will always happen – but we can clearly see that companies are handling those events better," said Rink.
He said one area where water companies could improve was proactively informing customers when changes are made to their source water – even if there might be no health risk, customers would still want an explanation for any difference in the water's taste and this is the best way of avoiding complaints. He also said that the number of applications for additional abstractions during the hot weather in June and July this year showed there was room for improvement in drought planning.
Martin Padley, Director of Water and Scientific Services at United Utilities, told the conference that since the Franklaw Cryptosporidium incident in 2015, UU had made great strides in implementing 'systems thinking' to "understand and address vulnerabilities and single points of failure." He said the company was working to embed effective, sustainable risk management, and that this was delivering both performance and resilience improvements.
The most important element of this approach is the Integrated Control Centre, which now incorporates SCADA systems from all individual treatment works and SCADA dashboards for other points in the network too. These are monitored regularly and comprehensively so that the company is not dependent simply on alarms. UU is also working through a phased programme of shutdowns and restarts of each of its water treatment works to test resilience, and is investing in flood protection of its assets and in a phased replacement of the Haweswater Aqueduct.
Other highlights of the conference included an update on a new WRAS campaign to enforce compliance with water fittings regulations by targeting major retailers; and details of Dwr Cymru Welsh Water's catchment management work which is treating the Brecon Beacons as a 'mega catchment'.
The WWT Drinking Water Quality Conference was held on 8th November 2018 in Birmingham in association with Northumbrian Water and sponsored by ATi and SNC-Lavalin Atkins.