SWW sees benefits as farmers use fertiliser with reduced phosphate
South West Water has announced that it has seen a significant difference to water quality at Drift Reservoir after persuading farmers to buy fertiliser with reduced phosphate.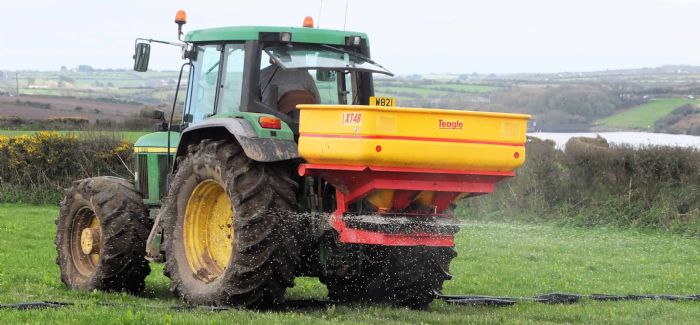 Drift Reservoir in West Cornwall suffers blooms of blue-green algae during the summer and autumn months, which makes the water more difficult to treat for drinking and can affect its taste and smell.
Algal blooms are partly caused by phosphate, which is used as fertiliser on agricultural land and can wash into the reservoir and the rivers that feed it.
As part of South West Water's award-winning Upstream Thinking programme, delivered in the Drift catchment by Cornwall Wildlife Trust, the amount of phosphate reaching the reservoir has been reduced.
This has been achieved thanks to dairy farmers and others making a straightforward change.
Dairy farms rely on a decent grass yield, which means getting the right ratio of nutrients in the soil. Sometimes more nutrients have been put on the soil than the grass needs, which is an unnecessary cost and can lead to nutrients entering the water when it rains.
Jan Dinsdale from Cornwall Wildlife Trust works on South West Water's Upstream Thinking initiative and has spent almost eight years getting to know local farmers and their businesses. One area where Dinsdale has given support is in getting soil analysed in the lab. For some farmers, such as Stephen Wherry, these soil results clearly show an excess phosphate in every field.
Dinsdale proved that the surplus was not benefitting the grass yield, so Wherry could buy fertiliser with only 2 per cent phosphate, and he now applies 700kg less phosphate each year.
Slowly the word has spread, with those who adopted the change first giving their neighbouring farmers confidence to follow suit. 
Wherry said: "I was really pleased to have the free soil tests. We didn't know we were so much over on the phosphate on our home fields next to Drift dam. We always used to use 10 per cent phosphate fertiliser but have done away with that for a while. We've agreed to have some more soil tests in a couple of years to make sure we don't run low on anything. Ours is a small dairy farm and we can't be short of grass." 
David Smith, South West Water's Upstream Thinking environment manager, said: "Good soil management is critical for farmers and for the water environment. The soil test service provided by Cornwall Wildlife Trust and the other Upstream Thinking partners is an excellent way of engaging farmers and understanding what management is needed, with great results in this case.
"The farmers are saving costs on lower applications of phosphate and there are fewer nutrients in the reservoir – a super example of Upstream Thinking delivering for people, water and the environment."
Cornwall Wildlife Trust advisers hope to make similar changes across their other Upstream Thinking catchments (River Cober and Argal/College Reservoirs), building professional relationships with farmers such that they are prepared to change. So far in the Drift Reservoir catchment, phosphate inputs have been reduced across 50 per cent of the whole catchment area.