SWW fined for poorly treated effluent discharge into River Par
South West Water (SWW) has been ordered to pay £153,600 by Truro Crown Court after poorly-treated sewage effluent discharged into the Par River from the company's sewage treatment works at Luxulyan near St Austell in Cornwall.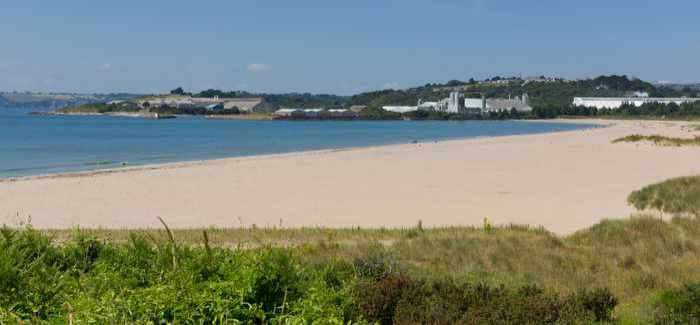 Bathing water quality at Par and Polkerris was unaffected
The firm released a statement that said: "South West Water takes responsibility and apologises for the problems experienced at Luxulyan sewage treatment works, near Bodmin, in July 2013.
"The issue arose when the quality of the final effluent produced by the site deteriorated. Samples taken by the Environment Agency showed that there was a localised impact on river water quality and bathing water quality at Par and Polkerris was unaffected and met the 'excellent' standard during this time.
"We immediately took steps to rectify the situation and no problems have since been experienced at the works."
The Environment Agency (EA) said SWW is required under its site permit to ensure the treatment works operates correctly and notify the regulator of any problems that might affect effluent quality: "Treated effluent must be of a standard that does not cause pollution."
An agency officer visited the treatment works on July 18 last year and immediately realised there was a "serious problem" at the plant.
A final effluent sample taken by the agency found a biochemical oxygen demand of 66.4mg/l – exceeding the site's maximum permitted limit of 56mg/l. Under normal conditions final effluent should not have a BOD above 20mg/l.
Further checks revealed one of five surface aerators had been taken out of service some four months earlier but had not yet been repaired or replaced. When a second aerator failed in July, the works could no longer function properly.
The EA's Phil Christie said: "The site wasn't being managed and maintained properly. South West Water took an unreasonably long time to repair a broken aerator (March to September) and this meant the works were running at a significantly reduced efficiency. The company didn't spot problems quickly enough or respond with the speed and urgency required.
"It is estimated that during the incident, nearly one tonne of poorly-treated sewage effluent was discharged into the Par River every minute. The discharge had an impact on river ecology for a quarter of a mile downstream with a thick growth of sewage fungus over 175m of the riverbed."
In his summing up, Judge Clark said, after studying the evidence, he was satisfied South West Water was guilty of negligence. Staff had "lacked proper vigilance" and the company had failed to put in place adequate personnel or proper systems to ensure offences did not occur.