Sweco appoints head of water and asset management
Engineering, environment and design consultancy Sweco UK has strengthened its leadership team with the appointment of a head of water and asset management, Ola Holmstrom, who has joined from WSP Group where he was director and head of water for seven years.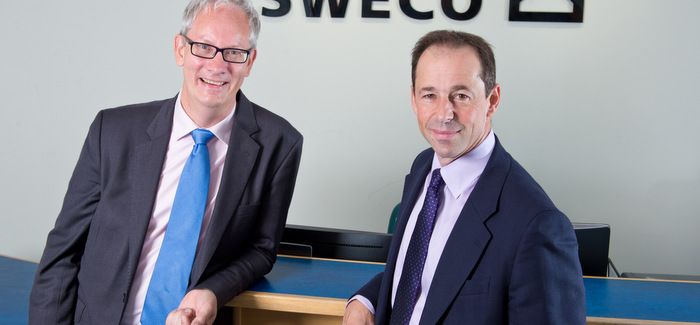 Ola Holmstrom (left) with Max Joy
Holmstrom has more than 20 years' experience within the water industry, and has spent 18 years working on environmental water issues in the UK, which most recently included being the flood risk lead for Crossrail 2 and water lead on HS2.
His role within the leadership team will include implementing plans for Sweco's continued growth in the UK in conjunction with managing director, Max Joy, and the leaders of Sweco's buildings, energy, environment and transportation business units.
Holmstrom has particular expertise in water and waste water management, as well as hydrology, hydrogeology, flooding, drainage, water quality and eco-hydrological issues. He also has extensive experience in geotechnical engineering and structural designs for rivers and contaminated land remediation, as well as leading several large multi-disciplinary projects.
Commenting on Holmstrom's appointment, Sweco's UK managing director, Max Joy, said: "We are very pleased to welcome Ola to the leadership team. He is a highly capable individual with a wealth of technical expertise and leadership experience who will help deliver our controlled strategic expansion plan.
"We have undergone significant business growth since we entered the UK market last April, and are clear about how we will maintain this momentum. This includes being committed to further enhancing our integrated offer across all of our disciplines in the UK and Ola's appointment is a key component part of us achieving this objective."
Holmstrom said: "I am excited to be joining such an ambitious consultancy. Sweco has made great strides since launching in the UK and is ideally placed for further sustainable, profitable growth. I look forward to working with Sweco's existing clients, seeking out new opportunities and helping our people explore new areas of their abilities with the aim of further enhancing the services we provide."