Surfboard becomes state-of-the-art inspection device
Scottish Water is using an adapted surfboard to inspect a section of the Talla Aqueduct which provides most of Edinburgh's drinking water.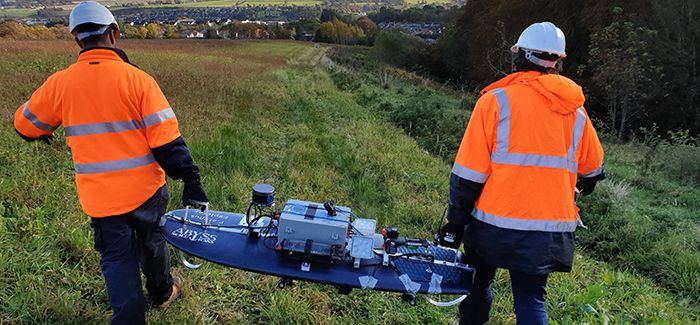 The company worked with partners to develop the unique device to make it significantly safer, quicker, easier, and cheaper to detect and analyse cracks and other faults on hard to reach assets.
It recently successfully trialled the device – which has been called the Platypus due to the shape of it - to inspect a section of the aqueduct.
Previously, inspections of this infrastructure involved a team of up to 200 people and hundreds of hours. The aqueduct, which was built in Victorian times and is buried six metres below ground in places, needed to be fully drained in sections for inspection whilst ensuring no loss of water supply to customers.
The surfboard technology will now be used by Scottish Water to carry out an inspection of the entire 45km length of the aqueduct.
The Platypus was the brainchild of robotics experts in Australia, Abyss Solutions. The firm had previously developed remotely operated vehicles (ROVs) which gathered high resolution underwater imagery from reservoirs. They adapted this to be able to gather high resolution imagery from above and below the water inside Talla Aqueduct so it could be kept fully operational.
Working with Scottish Water they created the Platypus, which operates as an autonomous surface vehicle (ASV). It was developed using a standard surfboard as a platform to support specialist recording equipment. High definition cameras and lighting were fitted along with sensors which steer it along a pre-programmed alignment and redirect it around obstacles.
The Platypus uses sonar, gathering data below water level and a remote sensing method that uses light in the form of a pulsed laser to measure ranges above water level. The data generates three-dimensional models of the internal surface which is recorded on the device. The footage is then passed through software which cleans up the images and is then able to identify and categorise defects within the asset. Once detected, engineers can carry out more detailed inspections and necessary repairs in these areas.
Darragh Hoban, project manager for Scottish Water, said: "Talla Aqueduct is a vital supply line for the capital's drinking water. It is an impressive feat of engineering and has stood the test of time, having supplied water to Edinburgh's residents for well over a century. It was built robustly and is still in good condition overall.
"Like all water companies we need to maintain an ongoing understanding of the condition of our assets. To date inspections have been carried out every ten years and required water within the aqueduct to be drawn down so teams of inspection engineers and rescue personnel could enter the structure, with additional teams needed on the surface to coordinate activities and support safe access."
The Platypus was recently trialled along a 1.5km long section of the Talla Aqueduct.
Hoban added: "The trial was a huge success with the Platypus providing a safer and less disruptive method of inspection, we are now planning to inspect the remaining part the of aqueduct using the Platypus. Results to date indicate the Platypus ASV approach may also offer solutions for inspection of other similar Scottish Water assets."