Subterra assets bought by Radius Systems
Radius Systems, a supplier of PE pipes and fittings to the gas and water utilities sector acquired the assets of the Subterra pipeline reparation business from Daniel Contractors' administrators for an undisclosed sum.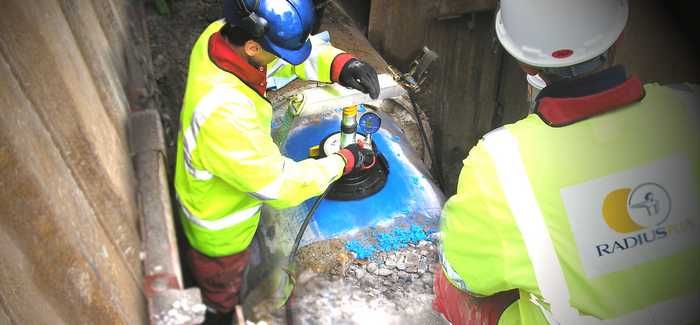 The addition of Subterra allows RadiusPLUS to offer a range of attractive services
Subterra operates from two facilities in Dorset, and is a leading provider of polyethylene pipe renovation solutions including epoxy and polyurethane resins for the spray coating of metallic pipes and the Subline and Rolldown relining technologies.
The UK business will trade as part of the RadiusPLUS service company, and the Subterra brand will continue to be used in connection with the pipe lining technologies.
Derek Muckle, director of RadiusPLUS, said: "After 10 years of steady organic growth based on our own innovation efforts, it is fantastic news to announce the acquisition of Subterra, a company with a strong reputation for innovation particularly in the UK water utility markets.
"This acquisition brings a range of technologies which are a good fit to our business and allow us to offer a range of attractive services to our utility and contractor partners both here in the UK and in the emerging Russian and CIS markets. We are especially pleased to have the skills and contribution from the employees of the Subterra business who will be transferring."
Commenting on the aquisition, Andy Taylor, CEO of Radius Systems, said: "Subterra is our first acquisition following the purchase of Radius Systems by the Russian-based Polyplastic Group in February this year. Our new owners have had no hesitation in supporting this transaction, which is consistent with our agreed strategy to complement our core pipe and fittings business with closely associated products, services and technologies and in so doing enhancing our value added to our customer base."
Bill Dawson, joint administrator of Daniel Contractors and Land & Marine Project Engineering and partner in Deloitte's Restructuring Services team, said the deal will ensure that the services provided by Subterra continue and helps protect the jobs of Subterra employees. "This latest agreement means that the vast majority of jobs at Daniel and Land & Marine have now been safeguarded," he added.