Study finds heavy microplastic pollution in UK rivers
Microplastics from urban river channels are a major contributor to the pollution problem in the oceans, according to a University of Manchester study.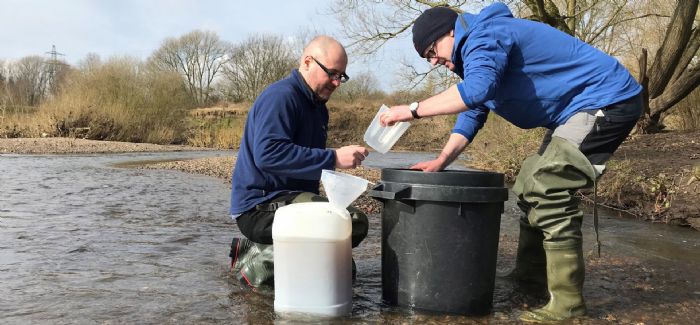 The study examined the microplastics in river sediments from 40 sites across Greater Manchester (Photo: Jamie Woodward)
The researchers said the findings -- which the university said came as the result of the first detailed catchment-wide study anywhere in the world -- showed tighter regulations on waste flowing into urban waterways are required.
Microplastics are very small pieces of plastic debris including microbeads, microfibres and plastic fragments that enter river systems from multiple sources including industrial effluent, storm water drains and domestic wastewater.

These particles pollute the environment and pose a threat to ecosystem health. Although around 90% of microplastic contamination in the oceans is thought to originate from land, not much is known about their storage and movements in river basins.
In the study, Rachel Hurley, Jamie Woodward and James Rothwell from the Department of Geography at The University of Manchester examined the microplastics in river sediments from 40 sites across Greater Manchester, including rural streams in the hills and urban rivers in the city centre.

They discovered microplastic contamination in all parts of the network – including a site on the River Tame at Denton that had the highest levels so far recorded anywhere in the world.

Following a period of major flooding, the researchers resampled at all of the sites and found levels of contamination had fallen at the majority of them, and the flooding had removed about 70% of the microplastics stored on the river beds.
This demonstrates that flood events can transfer large quantities of microplastics from urban rivers to the oceans.
"Microplastics in the ocean have recently attracted a lot of attention, but until now science knew little about the major sources of this pollution and the transport processes involved," Professor Jamie Woodward, the University's Head of Geography, said. "We decided to explore the contamination of urban river beds, as we began to think that they may be the main source of the problem.
"We are only beginning to understand the extent of the microplastic contamination problem in the world's rivers. To tackle the problem in the oceans, we have to prevent microplastics entering river channels. We also need to reduce our use of plastics large and small. We welcome the microbead ban introduced by Michael Gove earlier this year, and we hope that improvements in wastewater management will be put in place in the future."
The full study can be viewed here.