Study: 20 million UK women admit flushing sanitary products
New research suggests that as many as 20 million women in the UK have flushed at least one non-biodegradable sanitary product down the toilet in their lifetime.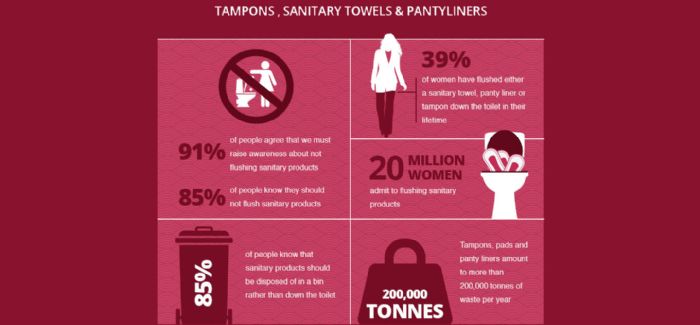 According to a nationwide survey carried out by Lanes for Drains – part of Lanes Group PLC, the UK's largest drainage contractor – 39 per cent of respondents have flushed either a sanitary towel, panty liner or tampon down the toilet in their lifetime.
Most popular sanitary products contain hidden plastics nonwoven into the fabric, which makes them non-biodegradable and causes significant blockages in pipes, drains and the sewer system. The problem is further compounded because they tend to expand when they absorb water.
Most of the respondents (85 per cent) said they knew that sanitary products should be disposed of in a bin rather than down the toilet, but hygiene, convenience and a lack of bins in the toilet were the factors most likely to lead to them flushing rather than binning the products.
In addition, 91 per cent of respondents either agreed or strongly agreed that people in the UK need to be more aware that sanitary products should not be flushed down the toilet.
Michelle Ringland, head of marketing at Lanes Group, said: "This survey truly highlights the scale of the problem facing the environment and our sewer system.
"These products, when flushed, remain in the drainage network – they don't go anywhere unless they are manually removed. Some 39 per cent of our respondents said they had flushed rather than binned – so if you apply this to the female population as a whole across the UK, our figures suggest many millions of non-biodegradable sanitary products are clogging up the infrastructure that is essential to maintaining sanitation and hygiene standards we expect as a society.
"What's more, our survey only asks if the public have disposed of at least one sanitary product down the toilet – the likelihood is that many of our respondents will have flushed more than one in their lifetime, significantly multiplying the extent of the damage over the decades.
"When you combine this with the incorrect disposal of fats, oils and grease (FOG), wet wipes, nappies, condoms, cotton buds and other items that cause blockages and create fatbergs, the problem gets even worse."
Lanes has now begun to work with high schools in the North West region, with the aim of developing lesson plans and best practice guides on waste and sanitary disposal for schools to use across the country, teaching the next generation good habits.
The findings come after it was revealed by Water UK that 93 per cent of blocked UK sewage pipes are caused by wet wipes and that 5,453 wet wipes were recovered from just 116 square metres of the River Thames in April 2018.