Students collaborate over wastewater treatment research
Five student researchers from across Europe will together provide 15 years' worth of research on a range of wastewater treatment and resource recovery projects. The collaborative research aims to address the challenges created by tighter environmental standards, the need to reduce carbon emissions and to derive value from waste.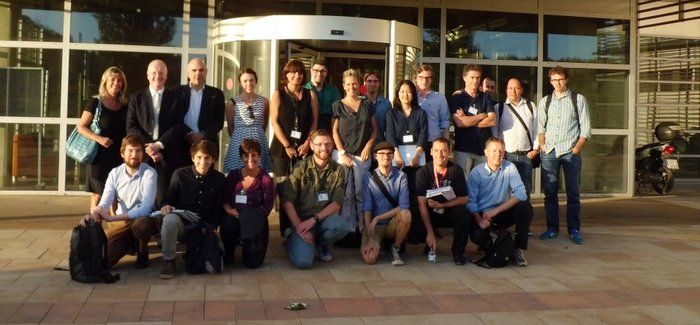 The students will working on their PhDs for the next three years using research initiatives that combine both academic and real world expertise. Supporting expertise is being provided by European research institutes Catalan Institute for Water Research and the University of Girona, with companies Atkins and Aquafin. 
Projects will include:
Tackling emerging compounds in wastewater treatment plants
Transformation of micro-contaminants in wastewater treatment
Optimal configuration of nitrogen and phosphorous recovery schemes within wastewater treatment plants
Assessment of environmental and socio-economic implications of urban wastewater systems upgrading
The researchers have been recruited by TreatRec, a European Industrial Doctorate programme  launched at the end of September this year and involves hosting the researchers within Atkins and Aquafin. This means the researchers will be working in an environment that draws together both academia and industry excellence.
Atkins is hosting Pau Juan Garcia, one of the researchers, whose PhD research will look at the resilience of wastewater treatment to current and future stress conditions using advanced analytical and GIS strategic modelling techniques. He said: "My aim for the PhD research is to improve resilience in the water treatment planning and process operation, delivering sustainability through improved risk management.
"By being hosted in Atkins, I am working with leading industry experts who are best placed to guide the direction of the research, ensuring that it will benefit the wider water industry. It's an exciting position to be in – by being closely linked to those working in the industry, I am confident that my research will have a lasting impact."  
Arthur Thornton, project director at Atkins, said: "Working for water companies across the UK and abroad, we provide the real world context and have a track record of applied research and development - the benefits of which can be passed directly onto our clients and their customers. We are extremely confident that this Horizon 2020 project will be considered to be exemplar in its field – linking academic and industry excellence creates a very exciting knowledge creation opportunity that Atkins is proud to be at the heart of."
Through this collaboration, the project team is confident that it will be able to produce high quality research addressing the challenges of the Water Framework Directive whilst balancing energy and product recovery challenges. The PhDs are also aligned with UK research programmes managed by Atkins - benefitting the UK industry as a whole.