Steart Coastal Management Project completed
The Steart Coastal Management Project, one of the largest managed realignment and habitat creation schemes ever carried out in the UK, has been completed and has opened to the sea for the first time.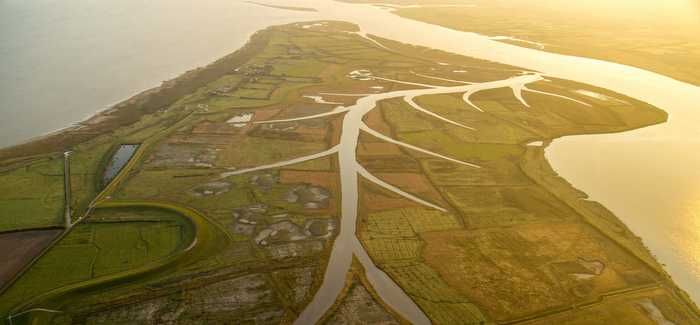 More than 400 hectares of wetland habitat will be created on the Steart Peninsula
The aim of the project – which was designed and supervised by CH2M Hill - was to improve flood defences while also creating more than 400 hectares of valuable natural habitats on the Steart Peninsula, an exposed coastal area located on the north Somerset coast at Bridgwater Bay. Started in May 2012, it has now been completed within budget.
The scheme will provide protection for the village of Steart against flooding from the River Parrett. Steart Drove, the only road that links Steart village with surrounding communities, will also enjoy improved protection. Meanwhile, opening the scheme to the sea this week is expected to create over 400 hectares of intertidal saltmarsh and freshwater wetland in which birds and wildlife will flourish.
CH2M Hill carried out the design, modelling and assessment of the scheme on behalf of the Environment Agency and supervised the construction phase which was carried out by Team Van Oord. The Wildfowl and Wetland Trust will be the site managers now the scheme is complete.
Toby Wilson, Project Manager for CH2M Hill said: "It is immensely rewarding to see this scheme finally opened. We had a large team of people working on this programme over several years progressing through detailed modelling, assessment and design before the construction works started. The final stage of connecting the site to the sea has been timed to occur on falling tides to allow a section of the old defences to be removed and a connecting channel to be dug to the River Parrett.
"As the tides begin to come in and out we expect the artificial channel to erode and evolve towards a new stable form. We have arranged an extensive field campaign to monitor these changes, the monitoring will cover longer term development of the site as it develops into a mosaic of different intertidal, brackish and freshwater habitats."