Southern Water unveils major plans to help keep Hampshire's rivers and taps flowing
Southern Water is consulting on plans to pump hundreds of millions of pounds into Hampshire and the Isle of Wight to help keep rivers and taps flowing during a drought.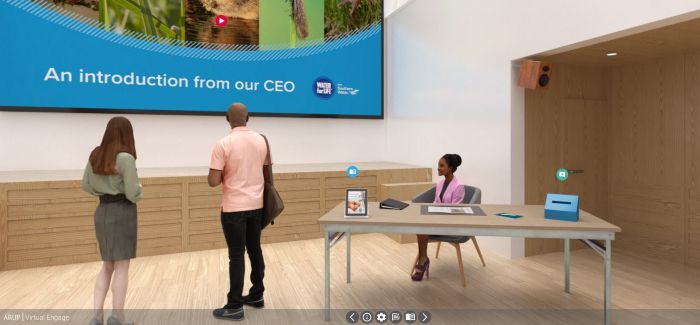 The company's Water for Life – Hampshire programme will revolutionise the way it sources, treats and supplies water across Hampshire and the Isle of Wight over the next decade.
Due to the Covid-19 pandemic, the company is adopting a "digital first" approach to its consultation and has launched a virtual room online where people can interact with films, animations, information boards and a brochure detailing the programme and the opportunities to help shape the plans.
The company is seeking planning consent for its central plan – a desalination plant in the Fawley area which will produce up to 75 million litres of water per day that will be used to supply water to the Hampshire region during periods of drought.
The consultation also outlines the alternatives the company is exploring as a back-up in case desalination proves undeliverable – ensuring customers' supplies are maintained.
If one of the alternatives is developed in the future, it would be subject to further development and consultation on that proposal. These include alternative sizes of desalination plant, different configurations of water recycling plants and a possible additional bulk transfer of water from the proposed Havant Thicket Reservoir, which Southern Water is co-developing with Portsmouth Water.
As part of its wider Water for Life – Hampshire programme, Southern Water is also:
Planning to install up to 125km of new water mains to link up its key sites and bring in supplies from neighbouring companies as well as building additional storage
Reducing leakage (by 15% by 2025, 40% by 2040 and 50% by 2050)
Increasing water efficiency by supporting and incentivising people to reduce their use to 100 litres a day (from an average of 129) by 2040
Improving environmental resilience and water quality by working with farmers, businesses and environmental groups to protect and restore local water sources
Ian McAulay, Southern Water chief executive, said: "Water is a precious, and increasingly scarce, resource and we all need to take steps to protect and preserve it.
"It's also a fantastic opportunity for us to work with environmental groups, local authorities, industry, land owners and others to deliver our stated vision of "Delivering a resilient Water Future for the South East" and, in particular, Hampshire and the Isle of Wight.
"This wide-ranging programme is the first of its kind in the UK and gives us an opportunity to help redefine how we think about water in a more holistic and sustainable way and create examples for the future.
"The result will be a resilient supply of water for customers and the environment, whatever the weather."
The improvements will secure future water supplies for customers and help protect two of the county's major rivers – the Test and the Itchen.
These rivers are among the finest examples of chalk streams in the world – rare ecosystems that support an abundance of wildlife such as salmon, trout, crayfish and dragonflies.
The Test and Itchen, and their associated underground aquifers, are also the main source of water for more than 700,000 people as well as being a source for a number of private abstractions.
Water for Life – Hampshire is Southern Water's pledge to take significantly less water from the rivers to further protect wildlife during dry weather and drought – a commitment that leaves the company with a shortfall of up to 190 million litres of water a day during a 1-in-200 year drought.
Southern Water's current Water Resources Management Plan (WRMP) plans to make up this shortfall by 2027 and the company is investing hundreds of millions of pounds to ensure it continues to protect the environment while securing reliable, wholesome water for its customers.
It is also planning for further expected reductions which, during a drought, could lead to the loss of about 80% of the water required to supply Hampshire and the Isle of Wight.
Southern Water is continuing to develop its plans for a desalination plant in the Solent, as outlined in its WRMP and is in the process of preparing its application for planning consent.
The company is engaging with local authorities and landowners on the plans and working to find a suitable site for the facility, which will be capable of supplying up to 75 million litres of water a day.
Southern Water is working hard to address the shortfall in Hampshire between now and 2027.
In the meantime, the area will be at risk of water shortages and the company may need to apply for drought permits or drought orders to ensure customers' supplies are maintained.
Drought permits and drought orders allow the company to continue to take water during dry weather but mean restrictions on use, previously managed under hosepipe bans, may be needed.
To offset the potential environmental impact of drought permits and drought orders, Southern Water has embarked on a £9.5 million suite of environmental monitoring and improvement projects that are being developed and delivered by local environmental organisations.
Activities already agreed include:
Monitoring of wildlife including fish, breeding birds and Southern Damselfly
Working with Bristol Zoo to breed White Clawed Crayfish for wild release
Restoring rivers to more natural states by removing man-made barriers