Southern Water tackles unscreened waste leakage at Eastney
Southern Water has admitted that the leakage of unscreened waste from its outfall pipe at Eastney, Hampshire, is "completely unacceptable" and it is remedying the problem as quickly as it can. Debris has been washing up onto the beach at Langstone Harbour, prompting Eastney Cruising Association to advise members to avoid the area.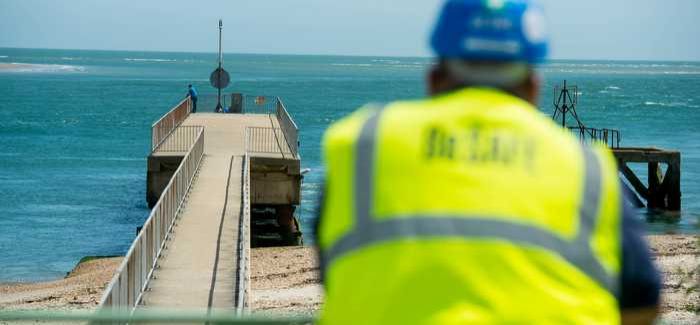 The pumping station that released stormwater out to sea had been destroyed by storms two years ago
Geoff Loader, Southern Water's communications director, said: "I wouldn't necessarily disagree with them."
It was not so much a water quality issue, he said "but it's the debris in the water that's the issue and people may decide they don't want to swim". He added, however, that when releasing water out to sea it dispersed "very quickly" and did not affect water quality.
The issue was triggered by storms two years ago when the pumping station at Port Cumberland, in Portsmouth, which releases stormwater out to sea to protect the city from flooding, got destroyed.
"We are having to rebuild it from scratch and we are reconfiguring the whole design to make it more robust in the future," he said. "We don't have any screening in place at that pumping station while we rebuild it which is a £10M project which will be ready next year – we are hoping in time for next summer."
He said that in the meantime there was no screening in place so all Southern Water could do every time there was a storm was to put a screening housing in place at Hayling Island beach.
"All we can do is after a storm the following morning is to clear the debris manually from the beach which is what we do which is far from an ideal situation but that is the consequence of what nature threw at us two years ago," Loader said.
Work at Eastney includes a "real-time" monitoring system to give more reliable warning of storms and allow preparations to be made at the pumping station. Other work includes the installation of an odour control system, refurbishment of pumps and upgrading of the site control system.
Southern Water is spending a further £20M in Portsmouth putting in a new system to separate storm water from foul water which Loader said would be "a big benefit" to the city.
This should be ready later this year, Loader said.
"The engineering is quite complex. We are trying to reconfigure the whole way the water arrives at the station so it slows flow down and hits the screens at a more steady rate."
Loader said the Environment Agency (EA) was "aware of the situation and want us to get this online as quickly as possible which we are trying to do".
No one from the EA was available for comment.