Southern Water pilots tanks to alleviate groundwater flooding
Southern Water is trialing ten mobile biological treatment tanks at seven locations in Kent and Hampshire as part of its work to alleviate the impact of groundwater flooding on customers. It is the first time such tanks have been used in the UK.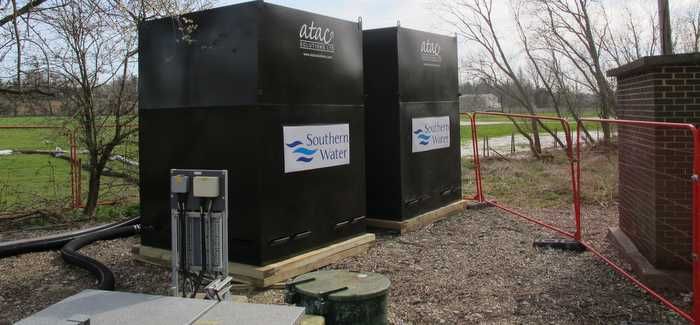 Each tank can improve water quality by 40%
Tank factfile
Each stainless steel tank is 3m high, 2.4m wide and 2.4m deep
Each has six nozzles which distribute the water over a biological filter, with a maximum total throughput of 20l/s – that's the same as using ten tanker lorries
The filter is made of standard fixed film corrugated plastic and has a surface area equivalent to half a football pitch. Once 'seeded', it contains billions of waste-digesting bacteria.
It is protected from blocking by a layer of sponge to catch debris. This is changed on a regular basis
Flow passing through the filter is collected on a benched false floor that discharges by gravity. 
The company, in conjunction with Atac Solutions, has developed this experimental technology to treat the excess wastewater being pumped out of sewers to a much higher standard than could previously be achieved, before returning it to the environment.
Phil Barker, Southern Water director of operations, said: "We have spent more than £10M in recent months to maintain services for customers, including using tanker lorries and temporary pumps to remove huge amounts of water from our sewers. These are emergency measures to allow households and businesses to continue to dispose of their wastewater.
"These new transportable tanks use bacteria to treat the flows from our pumps on site ─ something which has not been possible before."
Barker continued: "We estimate that each tank can improve the quality of the water treated by as much as 40%. Importantly, the tanks also allow more oxygen to be applied during the treatment process, helping to maintain the natural balance of rivers and streams for local wildlife. We are trialling this innovative new approach, with a view to possibly using it on a wider scale in the future."