Southern Water installs CHP engines at five treatment works
Southern Water is upping its renewable energy generation capacity by upgrading the combined heat and power (CHP) engines at five of its wastewater treatment works.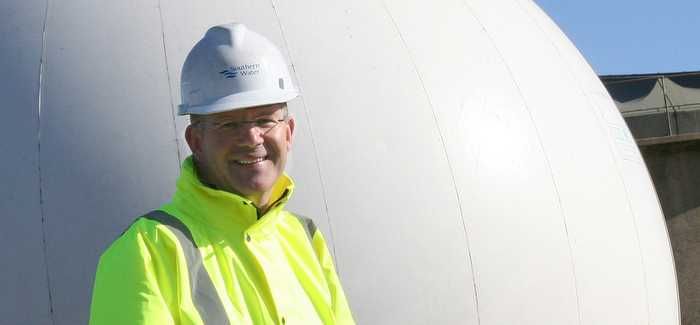 Martin Ross, Southern Water's Energy Manager
The CHP engines take biogas – primarily methane - created during the wastewater treatment process and use it as a fuel to create electricity. Southern currently generates 17% of its electricity from 16 CHP sites, putting it among the leading water companies on renewable generation. This further investment at five sites means it will be able to produce even more.
The five sites are Gravesend in Kent; Goddards Green in Sussex; Millbrook in Hampshire; Fullerton in Andover, Hampshire, and Budds Farm in Havant, Hampshire. All five sites will have replacement engines fitted and two sites – Budds Farm and Millbrook – will have additional engines to create even more electricity to account for future growth. After the engine upgrades Budds Farm will generate 95% of its power demand and Millbrook will be completely self-sufficient.
Three contractors are installing the CHP engines on behalf of Southern Water: Edina, Clarke and Veolia.
Martin Ross, Southern Water Energy Manager, said: "The capturing of biogas is a double win because not only do we collect free fuel but we also prevent the release of methane, which has a global-warming potential 25 times more potent than carbon dioxide.
"Last year, we generated 77 gigawatt hours of power through CHP - equivalent to powering over 20,000 homes for a year and saving the equivalent of 40,000 tonnes of carbon dioxide."
Of the 77 gigawatt hours of power generated last year, 13 Gigawatt Hours was exported to the national grid.