Southern Water announces large bathing water investment
Southern Water has announced the seven beaches where it will be working alongside local authorities and others to improve water quality in its major £31.5M Bathing Water Enhancement Programme.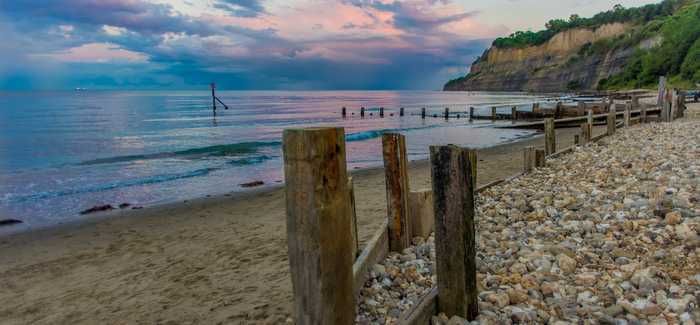 Shanklin on the Isle of Wight was one of the beaches selected
The seven beaches are Shanklin in the Isle of Wight, Selsey, Middleton-on-Sea and Worthing in Sussex, and Deal Castle, Leysdown and Minster Leas in Kent.
These seven will benefit from a multi-million pound investment to bring their bathing water quality up to 'excellent' standard. The decision follows a year of detailed investigations by a team of experts, including coastal sampling, microbial (DNA) source tracing and CCTV surveys.
Southern Water's Paul Kent, who is overseeing the Bathing Water Enhancement Programme, said: "We're immensely proud of this groundbreaking project. Our customers asked us to help boost more bathing waters in the region up to 'excellent' standard and, with the support of local authorities and others, that's exactly what we're doing.
"Alongside the 'Magnificent Seven', we've also earmarked some additional funding at a further six bathing waters which have a chance of achieving 'excellent', if the relevant local authorities are also willing to pursue improvements.
"We're producing and publishing detailed Action Plans for all 21 bathing waters – at the remaining eight these will give a detailed report of what could be done to improve water quality.
"We're thrilled to be playing such an active part in protecting and enhancing our region's bathing waters."
Southern Water's region includes more than 700 miles of coastline, representing the lifeblood of many communities through tourism, business or leisure.
Southern Water has invested millions of pounds in recent years to reduce the impact of its wastewater network on bathing water quality; however, bathing water is also affected by a range of other sources of pollution such as contaminated rainwater running off roads and agricultural land, wastewater from privately-owned treatment works, boats and animals on the beach such as dogs and seabirds.
Of the 14 bathing waters not selected, the work has identified a further six which could achieve 'excellent' standard if some additional activities are carried out by local authorities. Southern Water will be working closely with the relevant local authorities and, where feasible, will seed-fund improvements through the Bathing Water Enhancement Programme.
The remaining eight bathing waters will receive a pack with the completed detailed investigations into the sources and pathways of pollution - so local authorities and other key agencies can understand the root causes preventing excellent bathing water quality and how they can help address these issues.