Southern's renovation of Ramsgate's 'unique' sewers progresses
Southern Water has adopted innovative techniques for its £20M scheme to renovate 12km of Victorian sewers across Ramsgate. The project, which started last July, is part of a wider scheme to renovate sewers across Thanet, which represents an investment of more than £80M over ten years.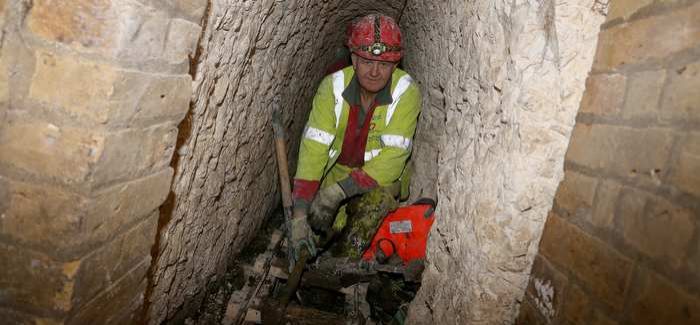 Miner Frank Whoriskey digging a tunnel in Ramsgate
The work in Ramsgate, being carried out by Clancy Docwra, involves:
Lining 5.5km of existing tunnels
Rehabilitating more than 12km of sewers
Building more than 2km of new pipeline
Improving 98 manhole shafts
Building 15 new manholes 
The "unique" sewers were built more than a century ago by miners who dug underground tunnels through the chalk, up to 10m deep in some places. These tunnels remain in place, acting as a conduit for the sewer network. Southern said the sewers are now in need of some attention so they can continue to carry flows safely from properties in Ramsgate to Weatherlees treatment works.
Specialist technicians, who are trained to work in deep tunnels using breathing apparatus, have been working to seal and line sections of the tunnels, repair existing sewers and build new pipelines. 
Southern Water senior project manager Adnan Naeeni said: "From an engineering perspective, this is a complex but exciting scheme. The Victorians created a unique sewer network in Ramsgate, by building tunnels to house the pipes, rather than trenches.
"This has given us some unusual challenges, not least how we access the sewers to start the work - which is where our specialists come in. They are working deep underground, refurbishing the sewers and building new ones where necessary. The end result will be a more robust sewer network for Ramsgate, which will have many benefits."