South West Water takes on more apprentices
South West Water has expanded its apprenticeship programme, recruiting 22 apprentices who will join its water and sewerage operations across the region. The apprentices also include the company's first two female trainees.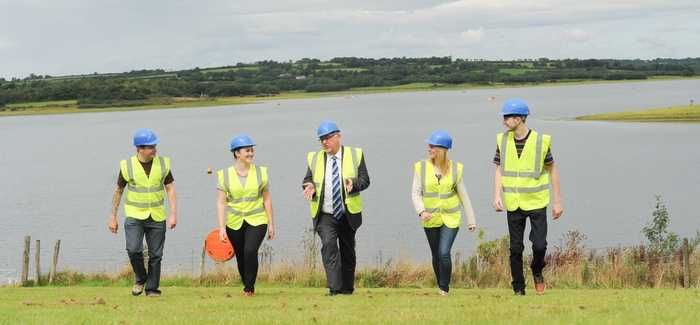 Dr Bird, centre, with some of South West Water's new apprentices
The new group of trainees will work in Drinking Water and Waste Water Services, along with Operation Support Services. The apprentices will work alongside a nominated mentor whilst studying for a level three qualification from a training provider.
Apprentice Abi Hayward, from Lanhydrock and who will work in Waste Water Services in Bodmin, said: "I wanted a lifelong career and to do something outdoorsy while protecting the environment. It was South West Water's values of sustaining our environment here in the South-west that made me want to apply."
Karl Stone, from Delabole, will work in Waste Water Services in Launceston. He said: "I like to be hands-on and I like to know that I'm providing something for the South-west and something that is essential to communities."
There are now 46 apprentices at South West Water, making up around 4% of its workforce
South West Water's operations director, Dr Stephen Bird, said: "Sharing knowledge and expertise with the next generation of water industry professionals is critical for a successful workforce of the future which is ready to meet the challenges of our 25-year vision.
"We have had an exceptional response with over 580 applications from young people across the region. We have selected the top candidates who we are confident that will live up to the high standards set by our current apprentices."
He continued: "We are also pleased to welcome our first female apprentices to the programme and hope their appointment will encourage other young women to pursue a practical career in the water industry."