South West Water's H5O delivery alliance evolves
South West Water has announced that it has made changes to its H5O alliance, while Stantec has been handed the contract for its new 'strategic consultant' role.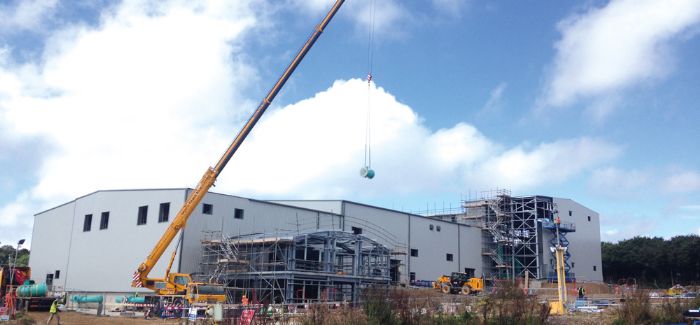 The H5O alliance is close to completing work on the Mayflower Water Treatment Works
The company has been reviewing its engineering delivery alliance, which was formed in 2009, over the last 12 months.
The current arrangements involve two contractors – Balfour Beatty and Interserve – and two consultants – Arcadis and Pell Frischmann – working collaboratively with SWW.
The new arrangements for the coming 2020-25 period, which were recently tendered, move to a design and build arrangement for all major capital schemes and see North Midland Construction Plc initially working alongside Balfour Beatty and Interserve as they complete a small number of legacy projects by March 2020. The appointment of a second delivery partner is presently on hold.
The alliance is joined by Kier, Nomenca, Northavon Group and Tecker, who are responsible for the design and construction of all MEICA aspects of SWW's capital programme and support operations on a reactive basis.
For the 2020-25 period and beyond, SWW has evolved its delivery model and created a new strategic consultant role. Stantec UK has been awarded this contract and will work closely with SWW's engineering, asset planning and operations teams while assisting the delivery partners as appropriate.
Supporting these arrangements and maintaining and updating South West Water cost models are ChandlerKBS, cost managers for South West Water.
With the imminent completion of Mayflower Water Treatment Works, which serves Plymouth and utilises the CeraMac ceramic membrane filtration process by Dutch water technology company PWNT, the alliance will commence planning the construction of the 2020-25 capital programme.
South West Water's managing director, Dr Stephen Bird, said: "The H5O alliance has successfully delivered our capital programme since 2009. In addition to Mayflower, this has included major projects such as the £20 million 'even cleaner seas' programme to improve key bathing waters across the region, a number of high-profile upgrades at sewage and water treatment works and more recently a £21 million package of work to protect or improve designated shellfish waters.
"We'd like to thank our current partners – Balfour Beatty, Interserve, Arcadis and Pell Frischmann – for their invaluable contribution over the years.
"In preparation for the challenges that lie ahead, the alliance is evolving to meet the needs of our business and the communities we serve.  We're delighted to welcome our new partners – North Midland Construction Plc, Kier, Nomenca, Northavon Group, Tecker, Stantec UK Ltd and ChandlerKBS – on board and we look forward to working together to plan and execute the capital programme for 2020-25."
South West Water has also appointed a new engineering director, who joins the business this month. Matt Crabtree will succeed Graham Murphy, who is taking early retirement after more than 27 years with the company – 16 as engineering director.