South East Water partners with Centrica Hive to cut leakage
South East Water and smart home technology provider Centrica Hive have announced the first domestic household water supplier partnership to reduce leakage and improve water use understanding.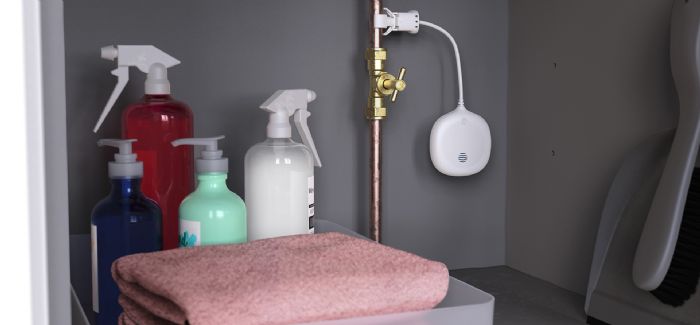 The project will see 800 South East Water customers given access to Hive's Leak Sensor device, which not only detects possible leaks but will also provide customers with water usage insights.
The Hive Leak Sensor is designed to monitor use and proactively detect potential leaks, and notify customers of any unusual flows via the Hive app. The sensor is easy to fit and works by monitoring water usage, using learning algorithms to detect anomalous flows in customer households.
The average water damage claim in the UK is £25,000, so the sensor will help avoid costly repairs by allowing customers to detect drips before they become leaks.
When the Leak Sensor detects an unusual flow of water, the Hive app will lead customers through a troubleshooting journey. This allows them to confirm if the flow was due to their own water use or whether it is a potential leak.
For South East Water, the partnership is a proactive step towards realising its leak reduction target of 15 per cent. The additional benefit of the Hive platform is that customers will receive insight about their water usage, which South East Water hope will give customers more control over their water use – something many customers said they wanted during research for the water company's latest business plan.
South East Water asset and regulation director David Hinton said: "As the number of smart devices people use in their homes increases, people have more control than ever before and can make changes to reduce their own water consumption.
"The ultimate goal is not only to reduce leaks in our network and reduce consumption of water, but to also improve customer satisfaction by finding new ways to engage with our customers."
Centrica Hive managing director Claire Miles added: "This is another first for Hive and a hugely exciting opportunity for us to enter into a partnership with a domestic water provider like South East Water.
"This enables us to provide solutions like Leak, where we can stop a drip becoming a far bigger problem for even more customers using our smart home technology. It's all about giving customers peace of mind and making everyday life a little easier."
The water company will be seeking 800 customers to be part of a trial programme in the New Year and, if successful, more of South East Water's 2.2 million customers may be able to access the device in the future.
Click here to read our WWT Explains report on Smart Metering and Leakage