Smart networks don't exist in a silo - WRSE's Bishop
Smart networks can play a key role in tackling water scarcity but must be considered as part of a 'systems thinking' approach, Water Resources South East (WRSE) director Trevor Bishop told the WWT Smart Water Networks conference.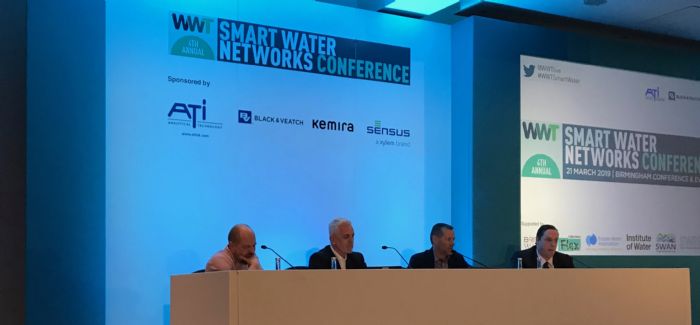 WRSE, an alliance of Affinity Water, Portsmouth Water, SES Water, South East Water, Southern Water, and Thames Water, represents some of the most water-stressed areas of the country and Bishop said incidents in recent times – not least last year's heatwave – had intensified focus on the need to act.
"It posed a genuine question about whether we are planning sufficiently, from natural resources through treatment through distribution and then ultimately down through the system," he told delegates yesterday (21 March).
Smart networks promise to play an important role in improving operations, utilising modern sensors and data analytics to provide greater insights into how assets are performing, opening up the opportunity to better manage demand and predict and prevent leaks and bursts.
"One of the big things we're looking at in the South East is the transition from performance to condition monitoring and, when we look at PR19 and AMP7 and the obligations on companies, there isn't very much room for manoeuvre," Bishop said.
"If we wait for performance to tell us when to react, many companies might find themselves tied down in terms of their service delivery because that's so tight, and what we're starting to see is some really good innovation in terms of condition monitoring rather than performance monitoring."
However, Bishop, who had spent two years with Ofwat before joining WRSE in January, underlined the importance of the regulator's 'resilience in the round' approach if companies are to succeed in introducing these technologies.
"As far as we're concerned, smart networks are absolutely fundamental but they don't exist within a silo," Bishop said.
"When I talk about 'system of systems', smart is very much the key word, but it isn't just smart networks in isolation that are going to deliver that ambition.
"We need to think about interventions that will give us resilience not just for one threat or shock but multiple threats in combination. That's very much the language we're getting from regulators and Government.
"When you're thinking about drought, rather than just building a reservoir, maybe dealing with more pinch points in the network might deal with a whole range of threats from drought to cyber to flood."
The WWT Smart Water Networks Conference was sponsored by ATi, Black & Veatch, Kemira and Sensus