Smart networks can help tackle key issues - Xylem's Welsh
Smart technology can help the water industry tackle some of its biggest challenges including the skills gap, Xylem Europe general manager Andrew Welsh told the WWT Smart Water Networks conference.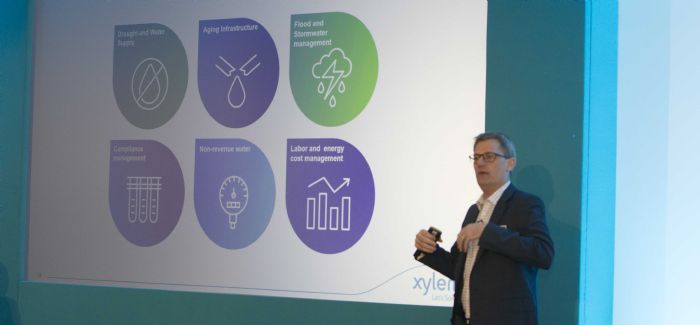 Xylem is one of the major players in helping water companies around the world adopt smart solutions, with the combination of new sensors, new communication technology and new analytical solutions allowing companies far greater insight into their networks.
Highlighting the Environment Agency chief executive Sir James Bevan's warning that England may be 25 years away from running short of water supplies, Welsh said it is not a matter of whether companies here will adopt smart water systems but whether they can afford not to.
"There are companies around the world that are buying these systems," he told delegates. "In America, for instance, they can't afford to build themselves out of trouble – they need to manage their sewers better, they need to manage their networks better. I think that's the reason they been early adopters."
Welsh said the benefits that can be gained from smart systems are significant and that it is important to start small and demonstrate value early on as the utility adapts to the new technology.
He also that said that – while analytics will deliver significant benefits – automation is key to gaining full value. Automation involves smart systems not only offering predictions and recommendations but acting on them without human intervention.
"That's a scary step – letting computers completely run your system rather than operators with all their years of experience – but at the end of the day we have an ageing workforce," Welsh said. "We need to get hold of our experience and knowledge and get it into our systems."
ATi managing director Michael Strahand agreed that automation is a central part of smart systems' value.
"It needs to be automated," he told the conference. "We're already in that world. There are PRVs now that can be controlled from water quality sensors or pressure sensors, so you can let the system control itself."
He said the shift to smart networks has been facilitated by various factors, including the ability to gather, communicate and store vast amounts of data quickly and cheaply, as well as the size of sensors.
"As recently as 2008, if you wanted to measure water quality in a distribution network you needed a panel that was about the size of a small car with mains power, lots of monitors, lots of sensors," Strahand said. "Modern technology has moved to the point where you can get two sensors into a cup.
"It is now possible to go right into the water distribution system and measure water quality inside hydrants."
He highlighted how the ability to place significant quantities of sensors into new areas was opening up new possibilities in areas such as burst detection.
For example, he showed an incident in which spikes in turbidity data had been caused by a small hole in the network that two days later had become a burst. Chlorine monitors, meanwhile, could highlight whether the water is decaying too quickly, which could mean there is ingress into the pipeline or biofilm.
Strahand said there has been a "momentum shift" in smart recently, adding: "It does feel like we're getting somewhere now."
The WWT Smart Water Networks Conference took place in Birmingham on 21 March and was sponsored by ATi, Black & Veatch, Kemira and Sensus