SIM scores show Portsmouth Water top for customer service
Portsmouth Water has come top of Ofwat's annual service incentive mechanism table for 2015/16, up from eighth the previous year.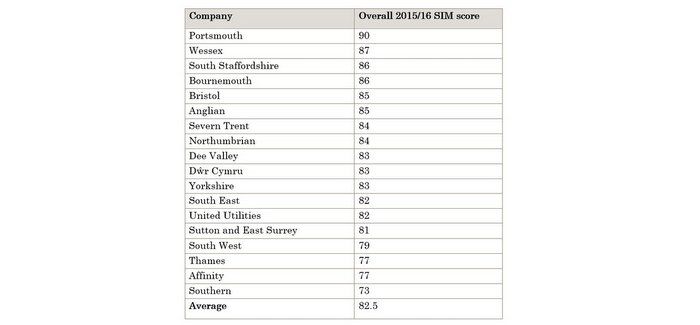 The company's score of 90 out of 100 is the highest ever achieved since the service incentive mechanism (SIM) began in 2010.
Wessex Water is again the highest-performing water and sewerage company with a score of 87, earning it second place for the second year in a row. Southern Water is bottom of the table this year.
The average SIM score across the sector rose from 81.6 in 2014/15 to 82.5 this year.
"This shows that our customer service scores continue to be a powerful incentive for driving improvements in how companies deal with their customers and building customers' trust and confidence in the sector.Ofwat senior director David Black said: "We are pleased to see an increase in companies' average scores for customer service.
"Even the best performing companies cannot afford to rest on their laurels. We know that customers increasingly expect water companies to offer the same range and level of service that they find in other sectors.
"We will continue to make sure that meeting customers' interests is at the top of companies' to-do lists."
Ofwat's SIM is calculated annually. It is made up of two components – the number of complaints companies receive – collected and published by the Consumer Council for Water – and customers' satisfaction with their company's handling of queries and resolving issues – from a series of independent surveys commissioned by Ofwat.
Companies' SIM scores will contribute towards financial rewards and penalties when Ofwat next sets price controls in 2019.
-This article first appeared on Utility Week.