Siltbuster installs modular treatment solution for Wessex Water
Siltbuster Process Solutions (SPS) has installed four of its modular moving bed bio reactor (MBBR) systems at Thornford water recycling centre for Wessex Water, to meet requirements associated with the AMP quality programme and to grow capacity in order to meet future catchment demands.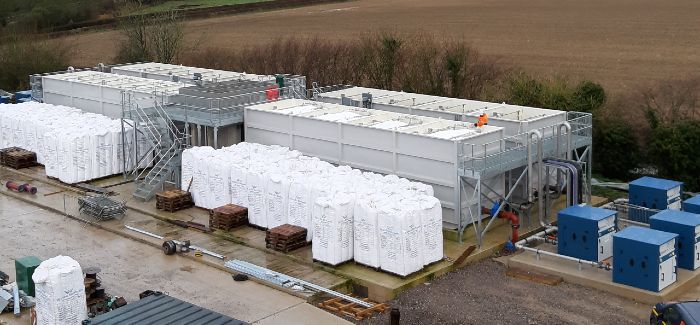 The project provides vital insight into the opportunities for package plant solutions going further into AMP7, amid growing interest in offsite manufacture providing greater programme efficiencies. SPS worked closely with Wessex Water as part of the large upgrade, which included new inlet works, primary settlement, chemical dosing, humus settlement and sludge storage. 
Wessex Water selected SPS' MBBR technology given the high ammonia loading and its ability to deal with variable loads, which was particularly important at this site given the trade contribution from the catchment. 
Following extensive investigations it was determined that the existing media filers could be retained and the MBBR system would operate in parallel, ensuring the existing assets were optimised. SPS' MBBR system was configured to take 66% of FFT (33 l/s), through four MBBR65 units.
The MBBRs use biofilm carriers made from plastic, with large, protected surface areas on which bacteria can grow. The carriers are agitated using an aeration grid allowing the bacteria to break down organic material in the wastewater whilst providing a self-scouring action.
These systems are particularly efficient at accommodating variability in the load conditions and the large surface area of the carriers enable the treatment of a high quantity of wastewater using a very small footprint. The MBBR65 treatment units, measured just 12.3m (L) x 3.2m (W) x 3.5m (H) and consisted of four aeration compartments.
SPS then provided further process commissioning support to ensure the effective handover of the asset, collating spot samples for analysis at Siltbuster's dedicated laboratory, based at its head office in Monmouth, and then providing regular reports back to the Wessex Water team. The end-result has proven how robust and effective the MBBR process has been within the high and cyclic loading characteristics of the effluent stream.
Aspokesperson for Wessex Water said: "We have sought to adopt this process given the track record we have developed with MBBRs on other sites, and SPS' modular build helps us plan for the future more effectively at the site for future demands or consent requirements."
Rich Matthews, managing director at SPS, said: "We are delighted to be associated with this project, delivering a modular treatment solution of this scale and demonstrating the benefits of the technology, whilst also showcasing the capability of the business.
"Successfully delivering for Wessex Water on this project signals a change in outlook for the industry, moving towards one that embraces modular treatment solutions and sees proven MBBR technology becoming more widely accepted. Indeed, we are committed to demonstrating these benefits and supporting environmental resilience across various sectors throughout the UK."