Sewer worker's invention could save water industry thousands
A sewer operative from Welsh Water has invented a toolkit that could help to save water companies thousands of pounds.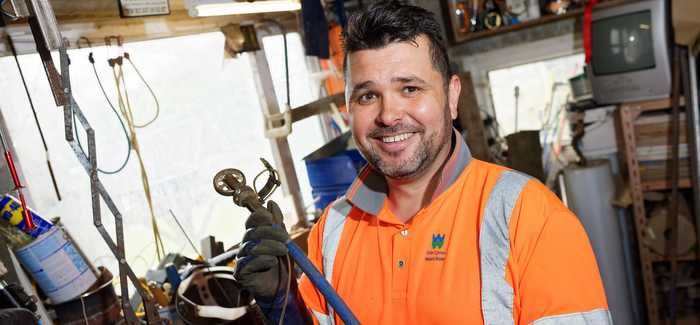 Geraint Williams with one of the tools in the toolkit he invented
Geraint Williams, 45, who works as a sewer operative for Welsh Water in south Wales has invented a range of tools to retrieve tricky items that block the sewers on a regular basis, and which would usually need a dig down repair to remove, saving the company money and reducing disruption for customers.
Now the toolkit, which includes a claw tool that can grab items like wet wipes and a magnetic jet head that can retrieve metal rods, has been patented and rolled out across the business.
Like most water companies, blocked sewers are a major problem for Welsh Water and cost the company over £7 million a year to clear. They cause misery to customers, damage to homes and businesses and can pollute rivers, beaches and the wider environment. 
Since Williams invented the toolkit the company has saved over £1 million pounds as a result. The toolkits are now being rolled out to all of Welsh Water's operational teams and team members are being trained on how to use them on the company's newly built training rig.
The idea for the toolkit came from Williams' frustration when he couldn't resolve blockages for customers. He explained:
"My job involves looking after the sewerage network and going out to blockages which customers have reported.
"I was quite shocked to see that there were things in the pipes, maybe just three or four metres down which we couldn't reach. We had to mark them up for another crew to come along behind us to dig them out of the ground because we couldn't reach them with the tools we had. I wanted to find a way to resolve the problem quickly for customers."
Before he invented his toolkit, the team couldn't always reach blockages with the existing tools on the market, meaning they often had to dig down to reach the blockage. This could mean digging up a customer's garden or even inside their home, or causing inconvenience to road users, by digging up roads and footways.
Williams found himself thinking about the problems well after he had left the job: "I used to go home and think about the trickiest problems while sitting in the bath. I would play them through in my mind and then go into the shed and make a tool that could reach the blockage."
Welsh Water has now manufactured 20 sets of tools, which have been patented. And he's always adding to the kit, with a number of extra tools in the design stage.
Welsh Water's Managing Director of Wastewater Steve Wilson said: "Sewer blockages on the wastewater network are the biggest cause of pollution to the local environment and can lead to flooding of properties. They are often a huge inconvenience to our customers so we do all we can to prevent blockages or to get them resolved as quickly as possible.
"The tools Geraint has produced have made a significant difference to our customers, helping us to improve our services, protect the environment and resolve blockages more quickly."
Any companies interested in learning more about the toolkit are invited to contact Welsh Water directly. Find out more about Welsh Water's innovation work at dwrcymru.com/innovation.