Sewer pipe 're-rounder' robot wins innovation award
The Wessex Water team behind pioneering robotic sewer repairs has been recognised with the south west Institute of Water Innovation Award 2019.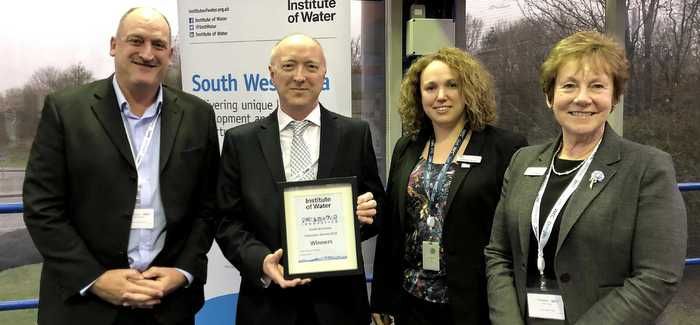 Wessex Water were rewarded with the innovation prize
Inspired by human heart surgery, the robotic machine has been specifically designed and manufactured to re-shape 150mm diameter sewer pipes which have suffered up to 25% deformation. 
The technology allows for safer and more cost-effective trenchless, or 'no dig', sewer repairs. 
Julian Britton, Wessex Water sewer rehabilitation programme manager, said: "Ordinarily we aim to repair pipes by using a resin lining cured in place by heat or light. 
"However, these liners become less effective when a sewer has more than 10% deformation. 
"This new robot, named the 'Re-rounder', repairs the pipe to its original shape and then leaves behind a metal stent to secure the structural integrity of the pipe, over which we can then line." 
The metal stent has been specially designed to be thin enough to not affect the flow in the pipe, with inspiration coming from stents used in medicine to keep arteries open. 
Following two years of development and testing, the Re-rounder is now in use throughout the Wessex Water network.