Sewage-powered buses could be rolled out in Bristol
Wessex Water subsidiary GENeco has revealed plans to fuel a fleet of buses from the biomethane produced at its sewage treatment works in Bristol.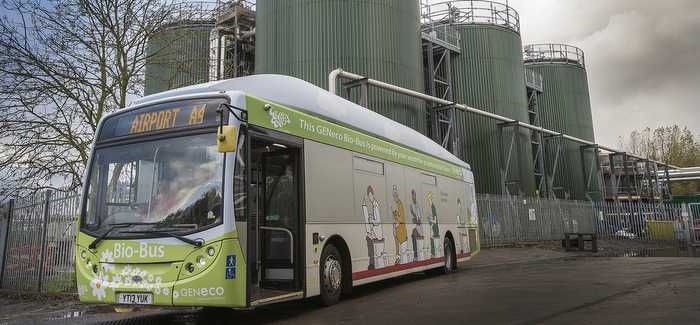 GENeco's Bio-Bus, launched last year, was the first bus powered by biomethane
The partnership with local bus company Wessex Bus could see 20 gas-powered buses operating in the city which would be served by a permanent refuelling station at Avonmouth.
Wessex Bus and GENeco have submitted a joint bid to the OLEV (The Office for Low Emission Vehicles) Low Emission Bus Scheme for a government grant of £2.5M to support the project.
GENeco's facility at Bristol Sewage Treatment Works produces biomethane from sewage and inedible food waste through an anaerobic digestion process. The gas, which is produced to a high enough quality to be injected into the grid, has already been shown to be effective in powering vehicles and it is hoped that its wider use will provide a boost to air quality in the city.
GENeco launched the Bio-Bus, the UK's first bus to be powered on gas generated from sewage and inedible food waste, last year and it has been providing a regular service in the Bristol area.

Under this latest proposal, more sustainably powered Bio-Buses could be rolled out, with 10 planned for 2016 in Bristol and a further 10 to be running within the area by 2019.

Antony Goozee, commercial director of Wessex Bus, which currently runs more than 100 buses around the Bristol, Bath and South Gloucestershire area, said: "This is a great opportunity to increase the number of gas-powered buses on the streets of Bristol and surrounding area, which will significantly improve air quality.

"What's more, we believe this would be the most sustainably fuelled fleet in the UK, as it will be the only fleet where the buses are actually powered by treatment of sewage and inedible food waste from the local community."

GENeco's Bio-Bus was conceived as a trial to explore the potential of powering a bus on gas from sewage and inedible food waste. It has proved a resounding success, and after initially being operated by Bath Bus Company to take passengers from Bath to Bristol Airport, in January it started providing a service along the appropriately named Number 2 route in Bristol.

Mohammed Saddiq, managing director of GENeco, said if the bid was successful, work to build a permanent refuelling station at Bristol sewage treatment works in Avonmouth would start immediately.

"Our plans are for the buses to run in areas of Bristol and Bath that have the poorest air quality," he said. "The majority would refuel at our treatment plant, but we will also look to provide a mobile refuelling unit that could be used by Wessex Bus at depots other than their Avonmouth site.

"It would significantly cut emissions harmful to human health and because the buses will run on gas from renewable sources, it means each gas bus would have an 80 per cent less carbon footprint than a typical diesel bus."

Saddiq said the Bio-Bus had attracted worldwide interest and become a focal point for visitors, overseas government officials and media who travelled to the city as part of it being European Green Capital for 2015.

He added: "While many passengers see the fun side of the Bio-Bus with its eye-catching livery, it's fair to say that people genuinely like to know that the bus is sustainably powered and better for the environment.

"I am sure that if our bid is successful, people will be delighted to see a fleet of Bio-Buses in the city."

Wessex Bus and GENeco will hear in January whether their bid to OLEV for funding to invest in the fleet of Scania Enviro 300 buses and refuelling plant has been successful.