SEW and Vodafone pilot NB-IoT leakage solution
South East Water is working with Vodafone on a pilot that the water company believes is likely to revolutionise leakage detection and prevention.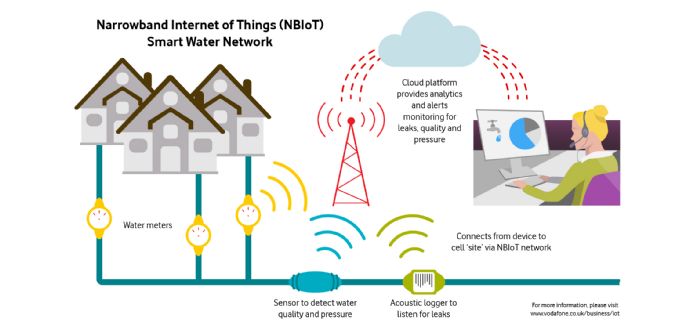 The trial, now underway in Kent, will run for a year and is the first in the UK to include Narrowband Internet of Things (NB-IoT) as part of a smart water network.
Vodafone and South East Water worked with partners to develop and connect specialist digital water meters, sensors and acoustic loggers on underground mains water pipes via Vodafone's NB-IoT network.
Data will be collected and transmitted across the system and advanced analytics will be used to monitor readings and alert South East Water immediately in the event of a leak.
Acoustic loggers 'listen' for escaping water within the network to determine when leaks have occurred and to pinpoint the precise location.

NB-IoT operates within a very narrow radio band frequency. This means it can provide wider coverage and deeper penetration than traditional networks – even underground or within buildings.
It also operates at low power so that batteries within IoT devices in the field, such as sensors, can last up to 10 years. This combination ensures that NB-IoT solutions are more sustainable and less expensive to install and run than current alternatives utilising 4G or fixed line networks.
Anne Sheehan, Vodafone Business director, said: "This is a really exciting project. NB-IoT technology has the power to transform the utilities sector. It provides a more accurate way of identifying and preventing leaks, helping companies like South East Water meet important regulatory and environmental standards.  
"It is a perfect example of how technology can be used to create a more sustainable future and manage what is an increasingly precious commodity."
Dr Simon Earl, South East Water's operations director, said: "This trial is likely to revolutionise how we detect and prevent water leaks. The solution has the potential to alert us to the smallest leak – in either our or our customers' pipes – as soon as it occurs and could even enable us to predict and prevent pipeline failure before it happens.
"This has the potential to reduce the water we take from the environment, further minimise interruptions to supply and increase the resilience of the service we provide to our customers."