Severn Trent's 'Siege Breaker' creates 3km tunnel under Newark
Severn Trent's 'Siege Breaker' tunnelling machine has completed its nine-month journey under the streets of Newark to create a 3-kilometre tunnel.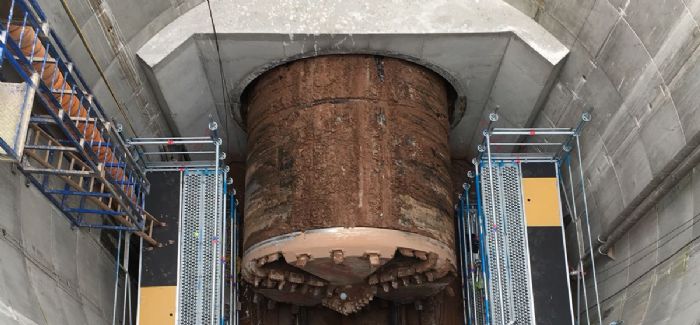 The Siege Breaker broke through on Tuesday evening after launching in August
Since launching in August last year, the machine has created a huge tunnel from Crankley Point to Millgate as part of the company's £60 million investment in the town where it is upgrading both the water and waste system.
Nick Wallace from Severn Trent said: "It's really exciting that the 'Siege Breaker' has completed its journey. This is such an important part of the project that will play a huge role in making sure the people of Newark won't have to worry when it rains anymore, as these bigger and better sewers will help protect their homes from flooding."
The 'Siege Breaker' weighs 160 tonnes – one-and-a-half times as heavy as an average blue whale – and is 75 metres in length.
The state-of-the-art machine has been travelling underground for nine months, creating a tunnel that is big enough to drive a transit van through.
"It's amazing to think that this huge machine has travelled underground, all without anyone really knowing it's there," Wallace added. "By tunnelling, we've been able to massively reduce the disruption caused to the town by our scheme, as the majority of the work is taking place under the roads, rather than on them."
When completed, more than 400 homes and businesses will have extra protection from sewer flooding, with 15 miles of new and improved water and waste pipes built for Newark.
"We're making some real progress with our work in Newark," Wallace said. "We're really thankful for everyone's continued support and understanding as we make these essential improvements. "
BNM Alliance is carrying out work on behalf of Severn Trent.