Severn Trent's £60M thermal hydrolysis plant starts operating
Severn Trent's new thermal hydrolysis plant (THP) at its biggest sewage treatment works in Minworth, near Birmingham is starting to become operational, with 100 tonnes of sludge being processed on a daily basis.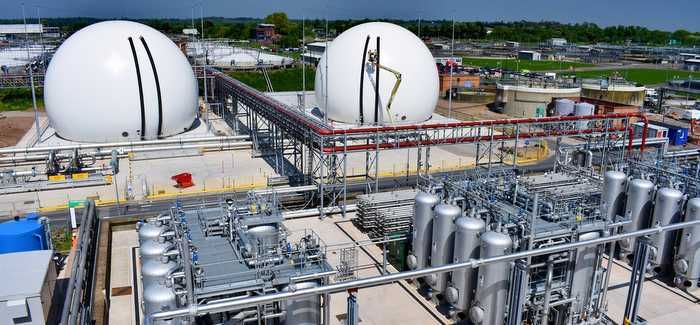 The site at Minworth will produce much more biogas thanks to the THP process
The £60M scheme changes the way the company treats waste before generating green power and will make the process considerably more efficient, meaning the amount of clean energy generated will increase by almost a third. More than half of the plant is now up and running and it is expected to be fully operational by the end of the summer.
Severn Trent said the Minworth site already generates enough clean electricity to power the equivalent of 11,000 homes and enough gas to heat 4,800 homes every year, with this set to increase as the THP comes online.
David Nyul, who is leading the project for Severn Trent, said: "It's really exciting to see this cutting edge technology starting to become operational.
"This has been a huge investment for us and this innovative tech means that we'll be generating more green power than ever before at Minworth.  We have significant expertise in anaerobic digestion and THP is the next step to make the process even more efficient in the future."
The process works by heating sewage sludge to 170°C and then pressurising it. The thermal hydrolysis process has an additional benefit as the leftover solids can be classified as "enhanced" status fertiliser and could potentially be used in the production of crops for human consumption, Severn Trent said.
Nyul added: "Minworth is our biggest sewage works and treats waste water from more than 1.6 million homes and businesses across Birmingham and the Black Country. The technology we have already generates both power for use in the works and gas for injection into the national grid.
"The bio-gas we create through this process will both be used to generate electricity and to be treated at our gas to grid plant on site to make it suitable for domestic use before being injected into the grid where it will be used by local homes and businesses.
"The new THP will increase our generation which is good for Severn Trent, for our customers and for the environment." Severn Trent aims to generate 50 per cent of the energy it uses by 2020.
The company announced plans to invest £100 million to "get ready for the future" as it posted its latest set of financial results on 23 May.