Severn Trent welcomes expanded graduate intake
Severn Trent has taken on a record-breaking number of new graduates this year, and is also already starting the search for next year's batch.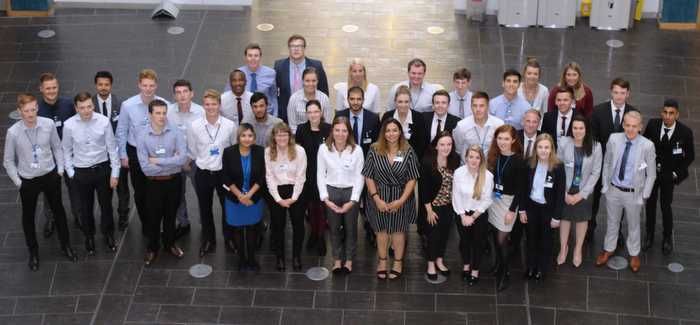 The new 45-strong graduate intake at Severn Trent
The company, which is based in Coventry and which supplies water and wastewater services to the Midlands and mid-Wales, has taken on 45 graduates this year, compared to 27 last year, having already welcomed a record 80 new apprentices to the company.
And the company is already searching for next year's graduate entrants.
Matthew Higgs, New Talent Manager at Severn Trent, said: "We're probably looking at a similar number of graduates for next year as for this, and we can offer the right candidates a challenging, diverse career path in a company that investing billions of pounds in a service that's absolutely vital for millions of people.
"We're making a real commitment to the future leaders of our business by bringing on board record numbers of graduates and apprentices, and we're confident that we can attract the absolute best candidates by offering them a fantastic programme in a brilliant company."
Severn Trent offers graduate leadership programmes and undergraduate summer placements which give graduates the opportunity to become a future business leader within the organisation and shape the future of Severn Trent.
There are four programmes to choose from: business leadership, finance leadership, technical leadership (engineering) and technical leadership (information systems). The new 45-strong intake started their new careers at Severn Trent on September 26.