Severn Trent Water boss checks on progress of EVA scheme
Severn Trent Water chief executive officer Liv Garfield has been checking out the progress of the utility's Elan Valley Aqueduct (EVA) project, which is being carried out by Barhale and North Midland Construction joint venture BNM Alliance.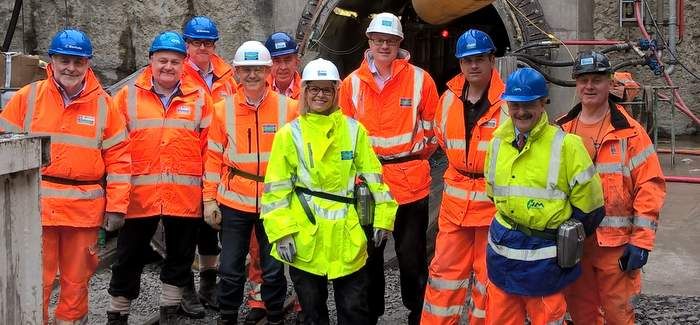 Garfield was joined on the Bleddfa site by Dennis Curran, chairman of Barhale and Robert Moyle, executive chairman for North Midland Construction, to view the progress of the tunnelling aspect of the EVA scheme, which is a key project within Severn Trent's AMP6 programme of works. 
After being welcomed by the project team, the group were taken through a presentation of progress on the scheme followed by a trip through the newly constructed tunnel to see the miners at work. The alliance has been working reaching 3m with approximately 110m of construction completed. 
When finished, the newly constructed tunnel will reach 1.8km in length and will replace part of the existing aqueduct.
Stuart Proud, managing director of NMCNomenca, the delivery division for North Midland Construction, said: "The alliance team are working tirelessly to ensure that the local community are kept informed of the works, building positive relationships and communicating updates as work progresses. We've had incredibly positive feedback from residents on our presentations and we are keeping them informed every step of the way."
The EVA is more than 73 miles long, and delivers 300 million-plus litres of water daily to Frankley Water Treatment Works on the outskirts of Birmingham. The proactive maintenance programme of works will take four years to complete.