Severn Trent to use Nereda in £17M STW upgrade
Severn Trent is planning to install innovative new technology at a sewage treatment works near Birmingham in a first for the company.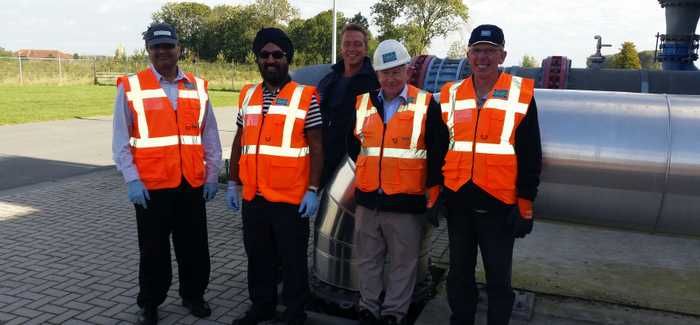 Severn Trent staff visiting the Global Nereda Academy in Amersfoot in The Netherlands
The Nereda technology from Royal HaskoningDHV will ensure that Barston Sewage Treatment Works will meet stringent new phosphorus and ammonia levels set out by the National Environment Programme (NEP).
An operational team from the company recently travelled to The Netherlands to see the technology in action.
Manjit Chadha, Severn Trent programme manager, said: "We're investing £17M in our site at Barston which will make it one of the most technologically advanced sewage treatment works in the country.
"Barston currently serves a population of around 40,000 people and this new technology will help us to improve the quality of effluent we put back into water courses and ultimately improve the environment.
"Our trip to the Global Nereda Academy in Amersfoort was an excellent opportunity to see the equipment first hand and we hope to have it implemented by March 2020."
The new permit agreement between Severn Trent and the NEP means that phosphorus levels must be 0.2mg per litre, down from 1mg per litre, and ammonia must be down to 1mg per litre from 3mg per litre.
Chadha continued: "In order to comply with these new levels we need to make upgrades to Barston – but there are several other sites we will consider this new technology for too.
"Increased flows are to be directed to Barston that would have otherwise gone to Coleshill Sewage Treatment Works. By treating more effluent at the two sites, it will reduce the number of storm spills to the environment, which will deliver environmental benefits to all the watercourses.
"The upgrades will also allow Barston to process greater amounts of sewage and meet very stringent standards of treatment.
"The River Blythe is currently a designated low flow river around the Whitacre Water Treatment Works abstraction point. By additional base flow through Barston into the River Blythe, we'll increase the resilience of Whitacre and will be able to abstract water from the river all year round."
Nereda is a biological sewage treatment process that purifies wastewater without chemicals by using the patented aerobic granular sludge technology.