Severn Trent progresses GBP60M Minworth THP project
Work to build a large-scale Thermal Hydrolysis (THP) plant at Minworth Sewage Treatment Works near Birmingham is progressing well, with the development starting to take shape.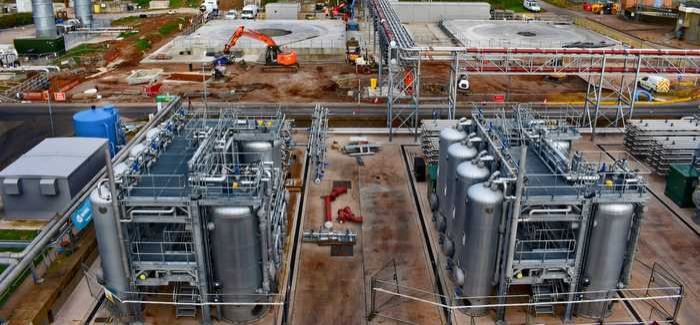 Work underway at Minworth STW
The £60M scheme at Severn Trent's biggest sewage treatments works will increase the amount of clean energy generated from sewage sludge at the works by almost a third, and make the process considerably more efficient.
David Nyul, who is managing the project for Severn Trent, explains: "Generating clean energy through anaerobic digestion is a real priority for us and we've been treating sewage in this way for the last 60 years. The deployment of this latest generation of thermal hydrolysis technology will make that process more efficient and means we can take 30% more energy out of the waste we treat.

"Across the company we currently generate around 34% of all of the energy we use as a business, and the thermal hydrolysis process will move us closer to our target of making that 50% by 2020."

The process works by treating sewage sludge using heat and pressure, in a similar way to a pressure cooker, and will be in place by 2018. The THP heats sludge to 170°C before putting it under pressure; this combination of heat and pressure sterilises and shatters the cell structure of the bacteria in the sludge. The treated sludge is then fed into huge digesters which biodegrade the volatile solid matter within the sludge and produce methane rich bio-gas.
Once that part of the process is complete, the sludge is then passed forward to the dewatering process where it is thickened, ready to be recycled as fertiliser for agricultural land.

"Minworth is our biggest sewage works and treats waste water from more than a million homes and businesses across Birmingham and the Black Country and already generates both power for use in the works and also gas for injection into the grid," continued Nyul. "By investing in THP, we can increase our generation which is good for Severn Trent, for our customers and for the environment.

"The bio-gas we create through this process will both be used to generate electricity and to be treated at our gas to grid plant on site to make it suitable for domestic use before being injected into the grid where it will be used by local homes and businesses.

"The thermal hydrolysis process has an additional benefit as the sludge cake by-product can be classified as 'enhanced' status fertiliser and could potentially be used in the production of crops for human consumption. That's something that we haven't been able to do ever before."